When Tyler native Matt Raker performs his songs for East Texas crowds, there's almost always a moment on stage when he feels a deep connection with the audience.
"It feels like you're in this moment with these people, and you get to express yourself and see how people feel about it – good or bad. It's just a cool feeling," Raker said. "The more you perform and experience that connection, you begin to build a community with people."
Raker is a singer-songwriter who performs regularly, primarily in the Tyler area. Raker's sound has influences ranging from modern indie-rock artists, such as Matt DeMarco, to classic, '60s bands like The Beach Boys.
Music is in Raker's blood. His mom is a singer who performed some studio, background vocals in the past. She taught her son to sing and nurtured his musical interest when he was a child.
When he was 8, Raker's mother bought him a toy keyboard. Raker taught himself to play piano on that little keyboard, learning by ear. As he got older, Raker eventually progressed to a full-scale keyboard and started playing guitar, which he also learned by ear.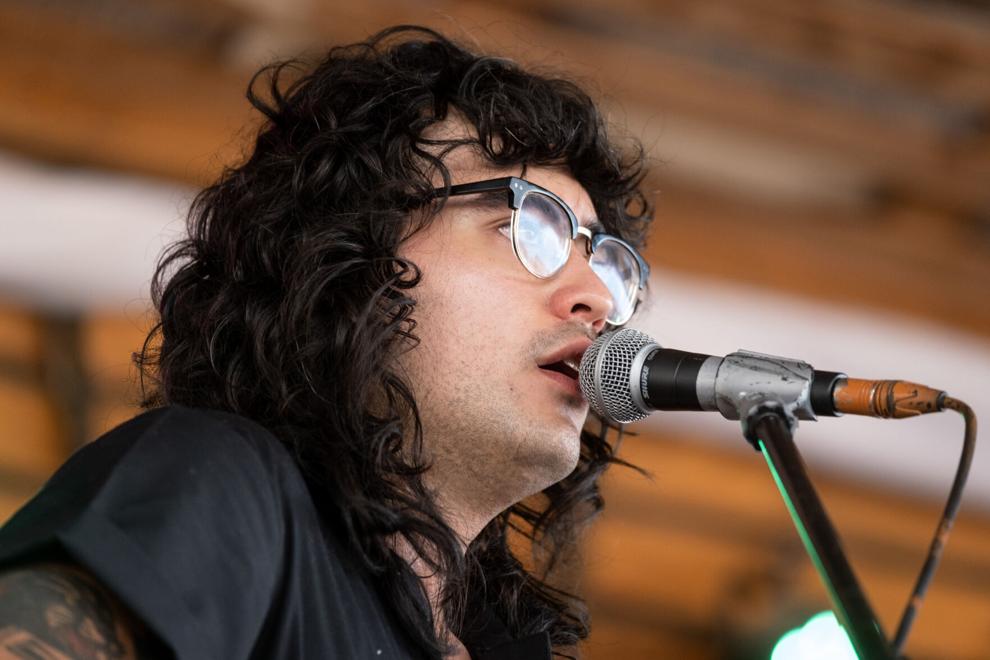 As a child, Raker grew up hearing a mixture of bluegrass, folk and country music in his family. When he began listening to music himself, though, he naturally ventured away from his family's traditional style and turned more toward punk, metal and emo music.
When he first began performing, he started by playing birthday parties for friends, then later officially began gigging. His first gigs were solo endeavors, playing acoustic guitar and performing covers.
In his late teens, he acquired his first electric guitar and began writing some of his own songs. That's when he put his first band together.
"I put a makeshift band together for one show. I played my first full show at The Foundry," said Raker, who also works at the Tyler coffeehouse. "I asked some of my friends if they wanted to do a show, and it was pretty amazing."
Elbert Wright, who is friends with Raker's mom, saw a video of Raker's performance and reached out to Raker. Wright is a longtime drummer who was interested in backing Raker up. Wright's friend, longtime bass guitarist Keith Jones, also was interested.
"Keith is, in my opinion, the best bass player in town and Elbert is just amazing. Elbert toured all over back in the day and Keith also did the full musician life," he said. "We really hit it off and just gelled together."
The trio has been playing together for about three years now. They primarily perform covers and Raker's original tunes as Wright and Jones seek to offer support to the young musician.
When he writes his own songs, Raker said he draws inspiration somewhat from his own experiences.
"I have really bad anxiety but it makes for some decent writing material," he said with a laugh. "I try to balance out writing about my issues by also writing about things that don't matter."
For example, one of Raker's original songs is called "Hair." While the lyrics might sound deep, "it's literally written about my hair follicles," he said. Raker wrote the song amid the first time he tried to grow out his hair. He has thick, curly hair and got irritated with it during the process of growing it out.
"Lyrically it sounds deep but it's actually a shallow song," he said.
Raker recently released an album, "Changing Pace," which can be heard on Spotify. That album features "Hair" and nine other of his songs.
An introvert by nature, playing music in front of audiences has helped Raker's confidence grow.
"Now, I'm more like a socially capable introvert," he said.
As he's performed more for crowds, his dreams have grown but Raker tries to keep those ideals in perspective.
Raker said it's easy for musicians to dream of touring, creating records and making it big. At one point in time, he said, he became too focused on that. If the past year has taught him anything, it's to slow down.
"With the way the last year went, it was so crazy for everybody. It made me want to live more day to day," he said. "I'm just happy to be gigging again. It put a lot of things in perspective for me."