Several times each year Longview-based photographer Scott Campbell ventures to Caddo Lake, observing the way the natural light hits the lake's waters and its moss-draped cypress trees.
"The terrain of East Texas including Caddo Lake and the surrounding area is a thicket," Campbell said. "You really go through the landscape when you are out there. Once I enter into the woods it's almost like a sanctuary to me and that's where I like to go."
Oftentimes he waits, visualizing what an image could be. When the timing is right, he uses a 1963 Linhof camera with traditional black and white film. The black and white film removes the color from the world around Campbell, allowing him to focus more on lighting and contrast to tell the lake's story.
"I don't have the interruption and distraction of color to kind of misguide me in the image that I have in my head when I am trying to make a photograph," he said.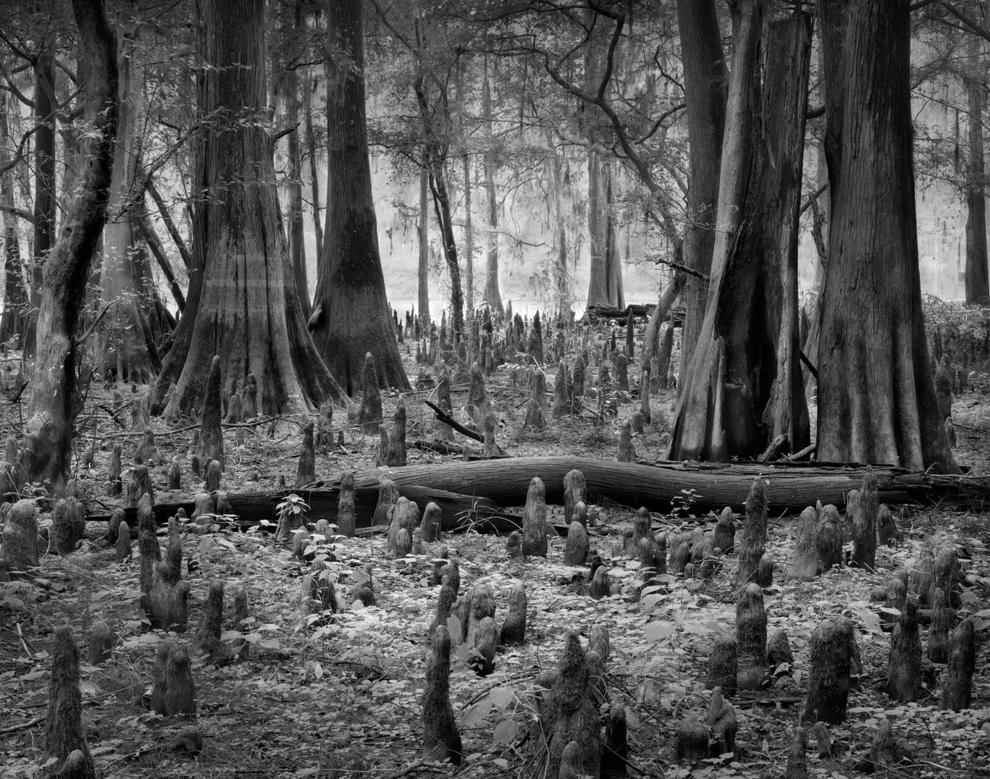 A commercial photographer by profession, Campbell has made it a 30-year hobby to photograph the changing landscape of Caddo Lake.
The youngest of five, Campbell was born in 1963 in suburban Long Island, New York. His father George was an aerospace technician who kept his son occupied by giving him things to tinker with.
Campbell's interest in photography started at a young age when his oldest brother, George Jr., would take him around town and take pictures of him for art class assignments.
"It was fun stuff and it really stuck in my head," Campbell recalled. "The fact that he made photography fun for me was one of the initial attractions into it."
In 1977, Campbell moved to his mother Evelyn's birthplace of Clarksville in Red River County in Northeast Texas. From there, he graduated high school in 1981 after being tapped by the school yearbook adviser to develop film and prints.
Campbell went on to study photography at Kilgore College under the instruction of O. Rufus Lovett. At KC, he was introduced to and influenced by the work of master photographers, such as Ansel Adams, Edward Weston, Paul Caponigro and John Sexton.
After graduating, he started a career in commercial photography. Today, he serves as a commercial photographer, videographer and video director for a publishing company based out of Indiana. He continues to maintain his home in Longview while traveling across the country for his commercial photography ventures.
When he is at home in East Texas though, Campbell can often be found in the woods, on the shores or on the water at Caddo Lake.
Early on in his career, Campbell didn't consider himself to be a landscape photographer. But as he would drive to work in the mornings, he would notice the way a "beautiful light" would hit the trees, grass, meadows and creeks. He found himself trying to replicate that light in a studio setting.
"If I saw that sun burning through a cloud where it wasn't bright sunlight and it wasn't just totally cloudy diffused light, there was that quicksilver quality to it and I would try to emulate that with my lights in the studio in the products I was photographing that day," Campbell recalled. "So I think over time that evolved into me starting to photograph those qualities of lights and I literally started photographing my drives to work and that got me involved in photographing the landscape of East Texas."
In 1990, Campbell took a boat tour of Caddo Lake and he was immediately attracted to the forms of the lake's sprawling moss-draped cypress trees.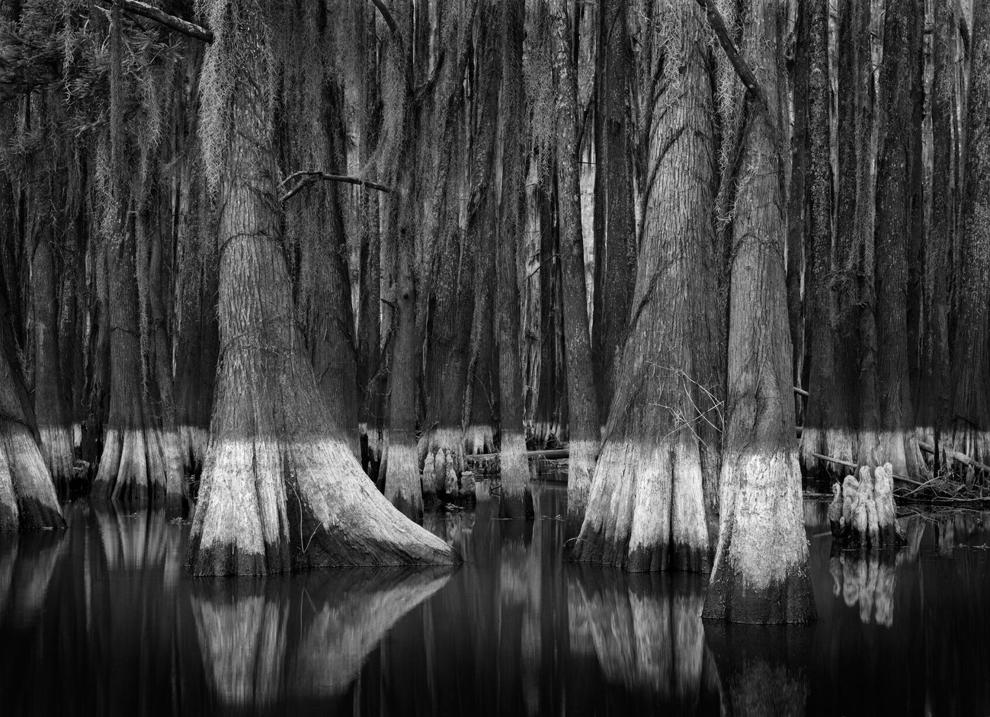 "It was just a surreal experience to go out there for the first time. There was an attraction to that beautiful place," he said. "But my photography itself isn't just about photographing the trees out there, it's more photographing the light and the compositions and my photography is a lot about time itself."
Campbell puts a significant amount of time into each photograph at the lake. Sometimes he visits Caddo and doesn't even take a single photo. Rather, he will let the idea of an image develop in his mind and return to the lake later to capture it.
He's come to find that his favorite time to photograph the lake is when the sun is low, very early or very late in the day.
"That very low light is diffused and it lights the trees with the reflection of the water and this surreal effect happens where the tree trunks are actually lighter than the tops of the trees and the reflections are really distinct at that time of day and I really love that," Campbell said. "Over the years, going out there, time and time again that's really what always catches my eye and what I am always attracted to."
In his 30 years documenting the lake, Campbell has observed how the lake changes seasonally. In the spring, water levels are high and in the summer, they are typically lower. In the winter, he said, the trees change to a "silvery feeling of color" because there's a lack of color in the winter that combines with his black and white film to create a neutral gray.
While photography also has changed during that time and digital photography continues to evolve, Campbell said he's happy to continue using film to make his prints.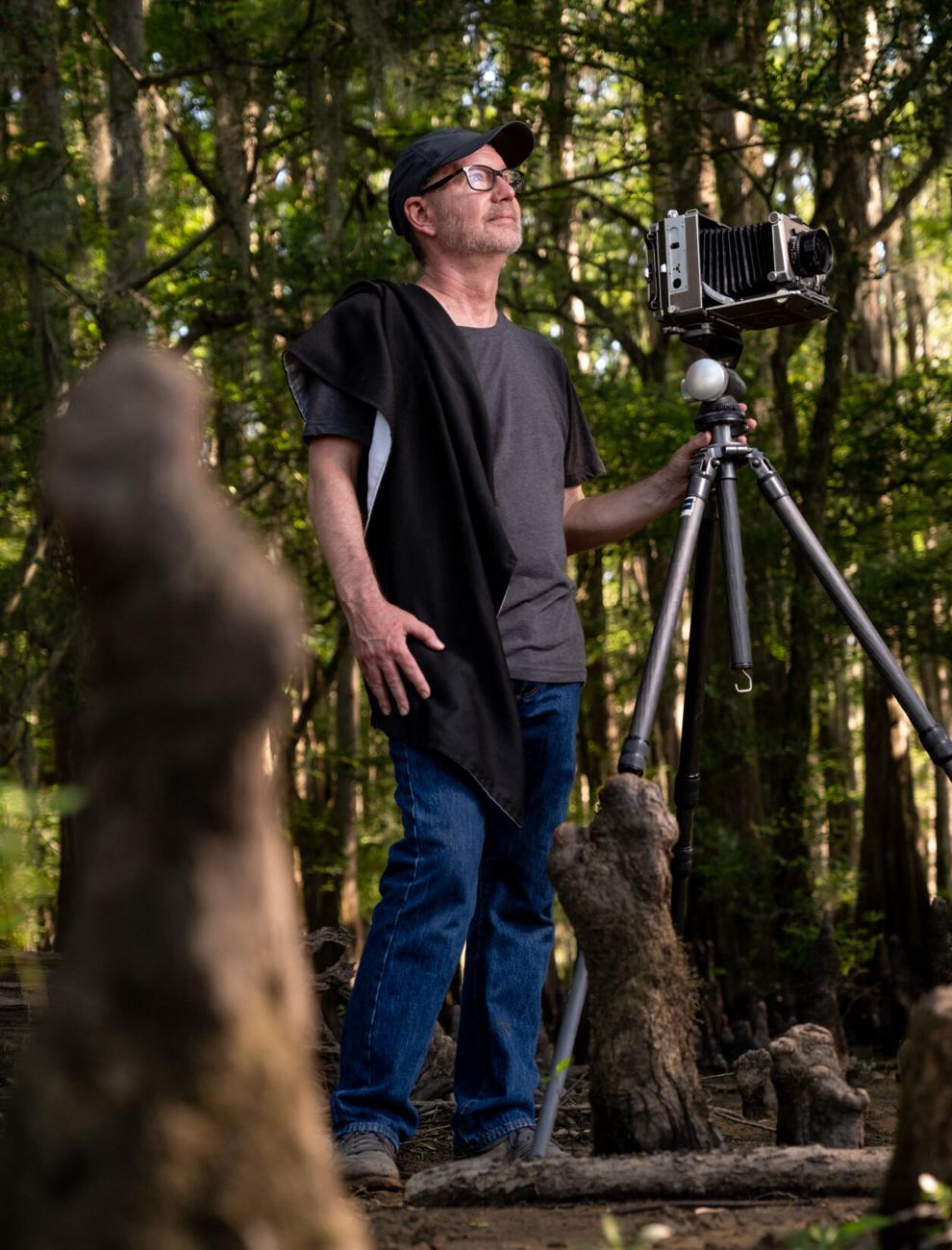 "It's just a love affair I think with the whole process. The alchemy. I love the smell of darkroom chemicals; I love opening up the canister and seeing my negatives for the first time," he said. "I think there is something to that — of making an image and waiting and a period of time going by and then looking at your photograph and evaluating it."
Though time can be a challenge, Campbell said he looks forward to continuing to spend more time at Caddo Lake.
"What I look forward to is just spending more time out there and getting a little bit deeper into the lake and finding other areas," he said. "There is so much work that can be done in such a small area out there because it is such a beautiful, different kind of a place."
To see Scott Campbell's photography, visit www.easttexasphotographer.com.