Steve Irwin and Jeff Corwin are just two of the Animal Planet stars who could always be seen on Logan Moore's television throughout her childhood. Watching their shows inspired her love for nature – in particular, her deep interest in reptiles and insects.
Longview artist Moore said she began creating art in middle school but recently found a passion for incorporating nature into her work. In her art, you will see cicadas and their shells, leaf prints, painted skulls and many other things found outdoors.
"I've always had a love for animals, bugs, reptiles and all sorts of things," Moore said. "That just kind of progressed into my art."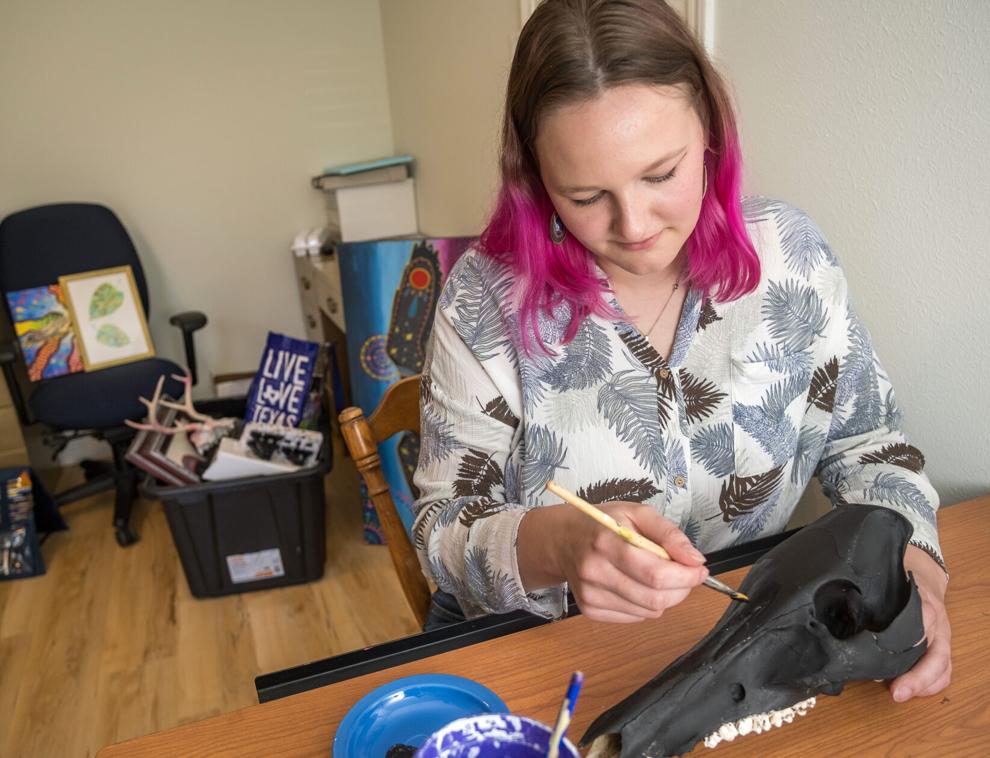 Moore recently started to incorporate cicadas and their shells into her artwork. She said the idea to use this particular insect came to her when she was walking outside and saw a bunch of discarded shells laying on the ground.
"These were huge bugs and I thought, 'I could do something with these, they are so beautiful just laying on the ground,''' Moore said. She likes to give new purpose to what might otherwise be considered trash or debris.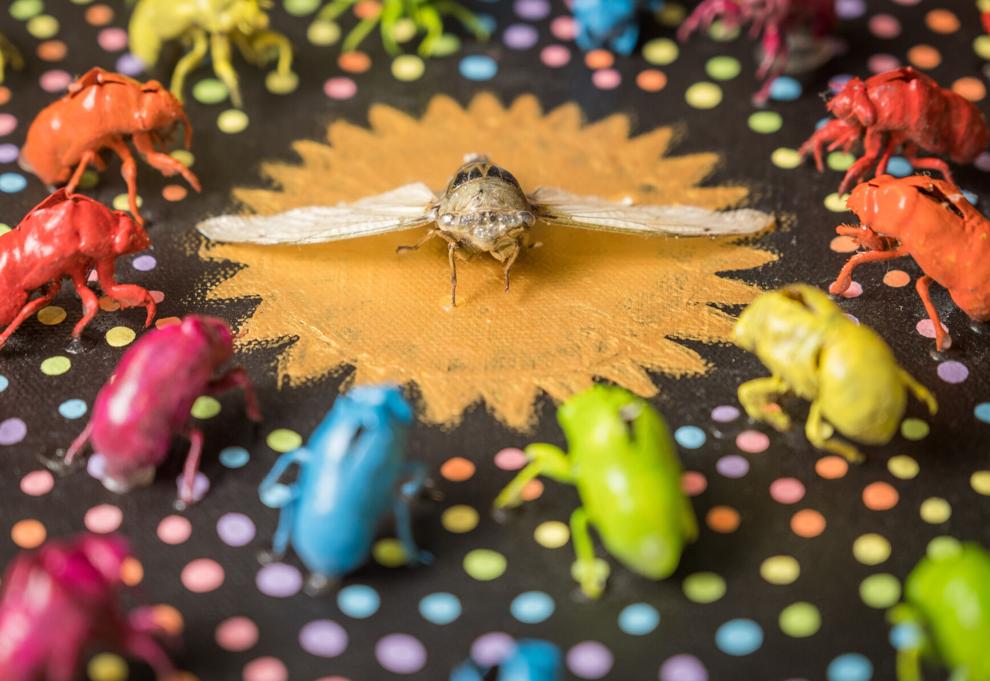 Through art, Moore said she has been able to combine her love of nature and art and turn that into something for herself and to share with others.
"That's just the most enjoyable thing you could do," Moore said. "Take what you like to do – I like art – and what you love – nature and bugs – and just smash them together and make it your thing."
Moore's artwork journey began with painting more traditional nature scenes and making terrariums before she progressed into creating leaf prints, incorporating insects and painting skulls.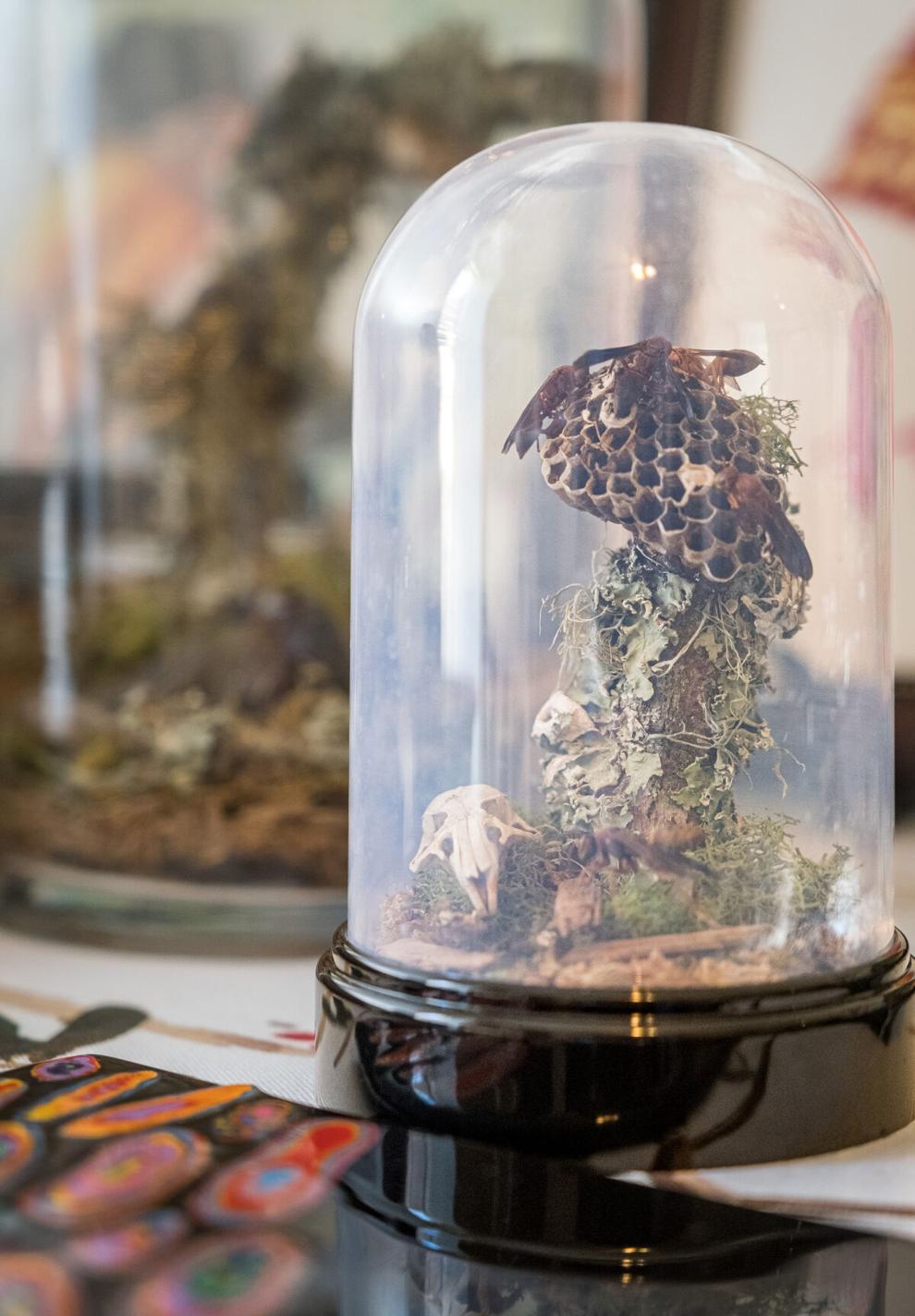 Moore describes her art as spontaneous, a lot like herself.
"My art is all over the place," she said. It's either filled with bright colors and interesting to the eye, or more realistic.
"There's different sides to it," Moore said. "I get really crazy or I try to make it resemble nature."
Moore and her husband moved to Longview in 2019 and that is when she really began developing her personal style as an artist.
"Once I moved to Longview that whole 'make a name for yourself' kind of thing developed more for me," she said.
Moore's decision to get involved with the art community in Longview helped her delve more into her art and how she wanted to express herself, she said. Each person she has met in the community inspires her, she added.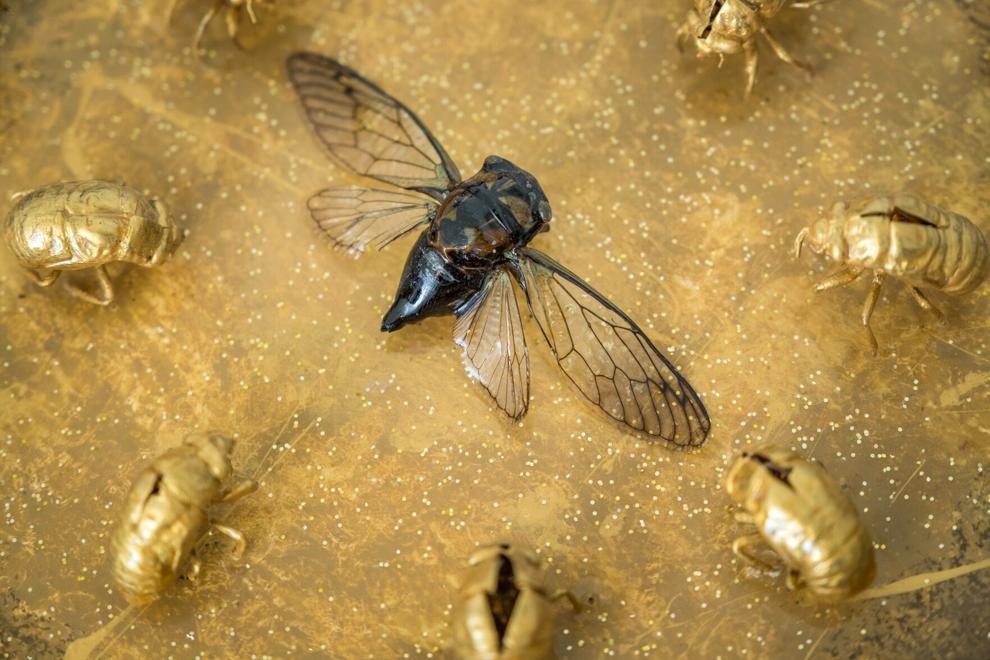 In developing her style and progressing her skills, a lot of experimentation is involved, Moore said. Having a community of artists for support and friendship helps the process, she said.
"I've seen through all of my artist friends that they have different methods," Moore said. "Some will need to study something for a long time and then they'll start. Some have a vision board, or they're just like, 'I did this in two hours.'"
For her, Moore said she has to tackle her idea immediately in order to make the concept come to life as she envisioned it. She'll often stay up late into the night because she finds her creativity in the evenings.
Seeing how nature plays such a large role in her art today, Moore said she is grateful for her parents encouraging her love of insects, reptiles and more. As a child, Moore would bring insects in the house and has multiple pictures holding giant bugs. She even remembers having a jar full of discarded cicada shells.
"I'm glad my mom and dad weren't totally terrified of insects, they were kind of indifferent," Moore said. "My parents would find them and say, 'look at what I found,' and get me really into it."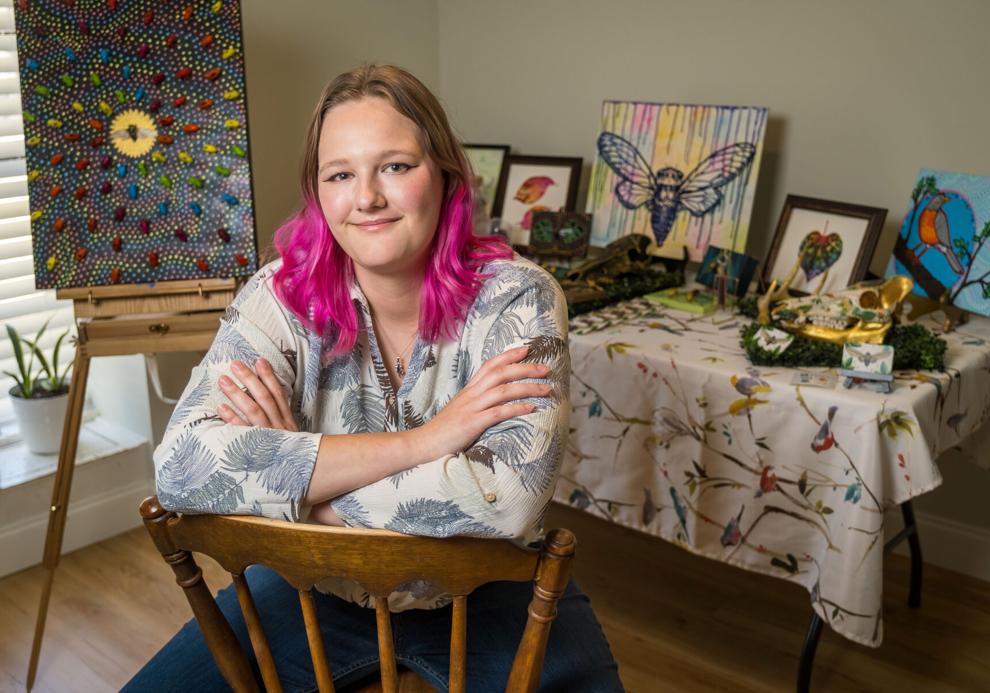 Part of Moore's mission as an artist is to help others understand nature and know insects – or what she called "the little guys" – are not all that bad, she said.
Viewers often give her work mixed reactions. Some are in awe while others are shocked to see insects being used as an art element. Moore knows not everyone will love her work, but she is thankful for those who are able to see the beauty in it. At the end of the day, Moore said she creates art for herself.
"It's a hobby that helps me relax and I don't have to be serious about it," Moore said. "I can just make whatever I want to and do things that maybe nobody has ever thought of before."