Tucked in the East Texas countryside is a 45-acre multipurpose ranch with one-of-a-kind amenities.
Shadow Ranch, operated by Gilmer residents Brent and Leah Fyffe, is a fully-functional exotic livestock ranch which also features a specialty market known for its mouth-watering Waygu beef, a rental guest house with rave reviews about its unique scenery, and a rustic venue suitable for nearly any event.
Each piece of Shadow Ranch is all part of a working puzzle – Brent's larger vision to leave a lasting legacy for his six children.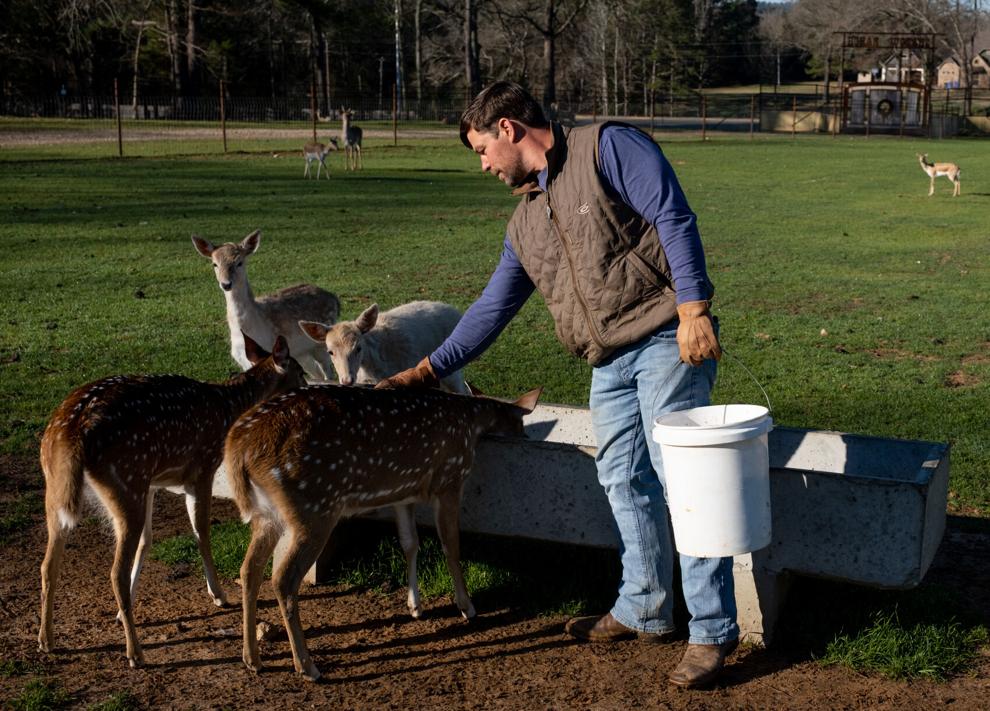 A growing vision
Shadow Ranch has an exotic animal ranch, a unique market, a wedding and event venue, and a guest house available for rent.
Brent was a hunting guide for nearly two decades traveling all around Texas, but he wanted to do something that could keep him at home with his family. And so Shadow Ranch was born.
"We purchased The Market building in 2019, and that was the trigger that made it all happen. I've owned the land up to the driveway and the house on the property, but once I was able to buy the building for The Market, I was able to bring my bigger vision to life. We high-fenced about 45 acres and started redoing the market and the house, then came the barn.
"There's no handbook for this and there are a lot of pieces to this puzzle. It's a learning experience but my vision is to keep growing Shadow Ranch into something even bigger," Brent said.
Leah said her husband doesn't often sit still. When he's not operating the ranch, Brent is an investor in real estate, oil and gas and is also taking real estate classes. Brent said the hustle is in his blood.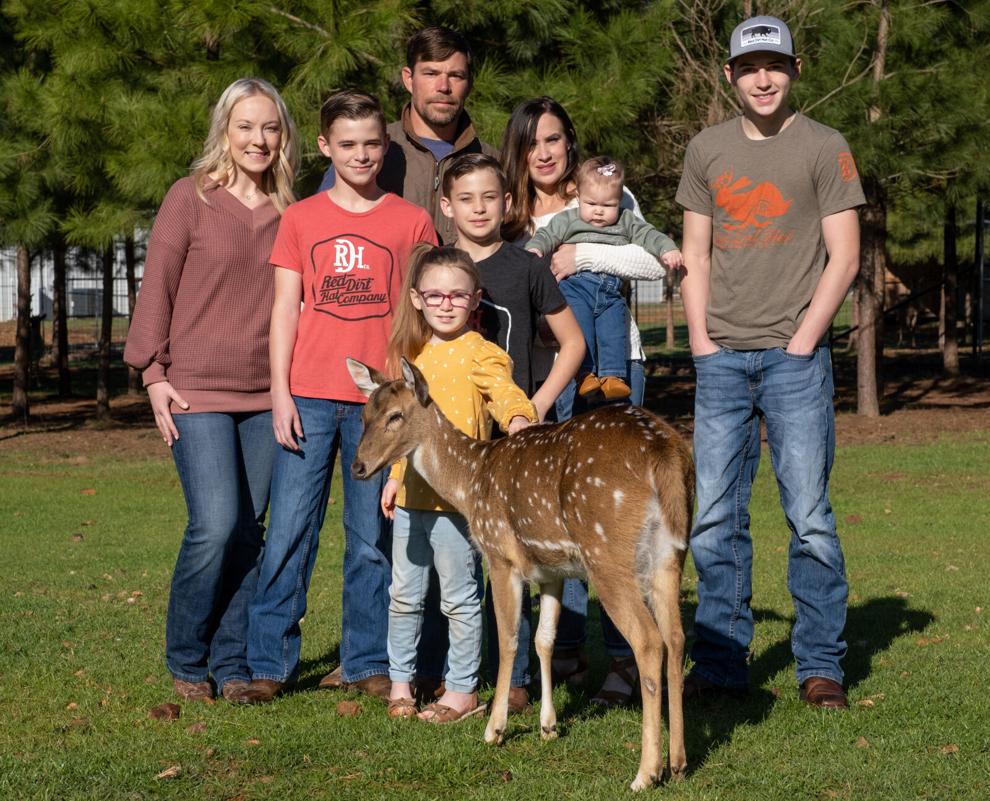 "I was just raised that way," Brent said. "I grew up with a good work ethic and examples around me. I always want to keep going."
His wheels are constantly turning, thinking about his next project or how to expand his business. Leah said her husband often spouts off ideas in their home as the family winds down for the night.
"He'll be lying in bed and ask me about this or that," Leah said. "His mind is always going. That's his personality. But I have to give it to him, he works harder than anybody I know."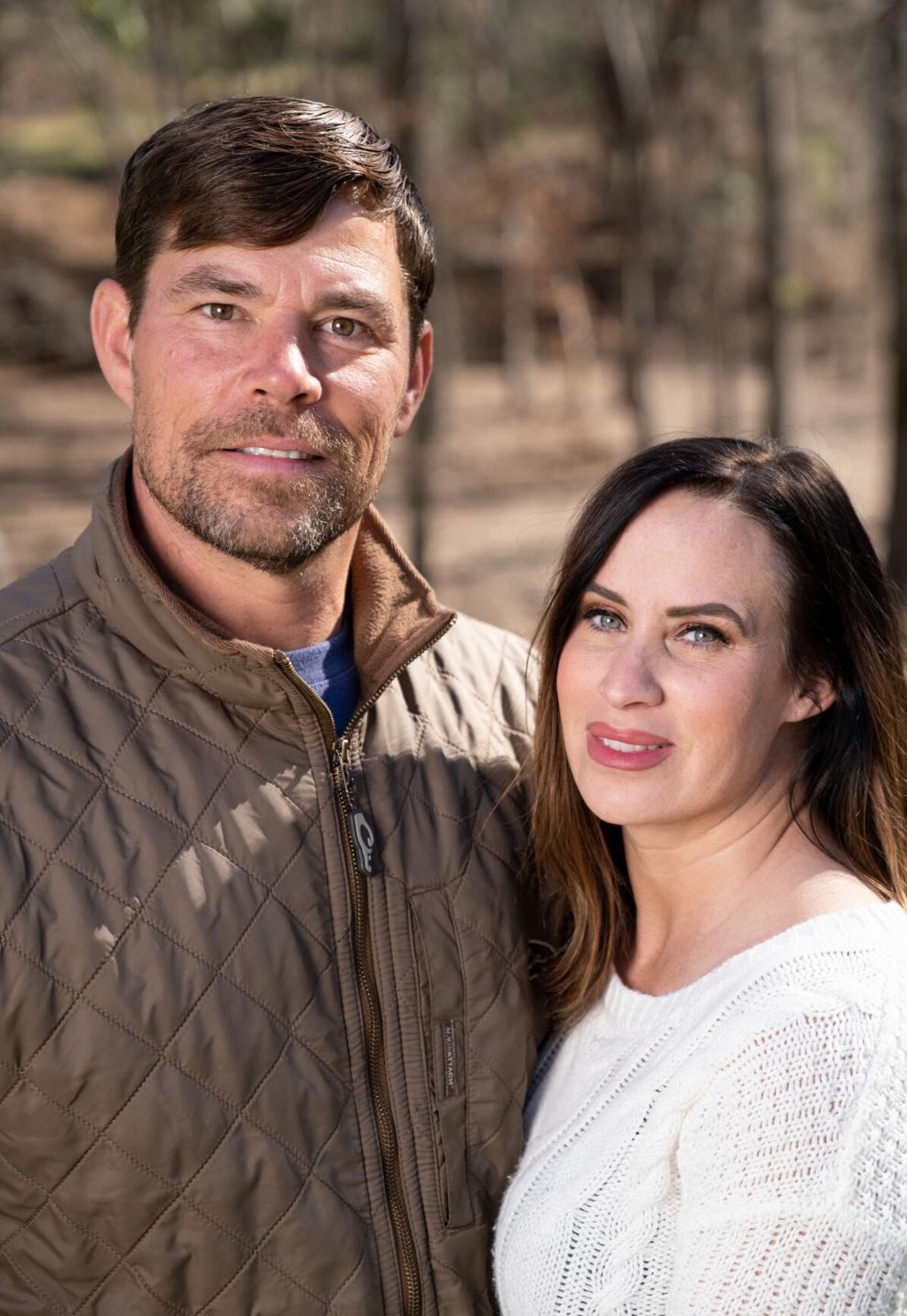 But for Brent, it's not work – it's a way of life, and he loves it.
"It's not really a job for me. We enjoy this," Brent said.
Brent's tireless drive comes from the desire to leave a legacy to his children, Kaylee, 22; Hayden, 14; Keagan, 12; Grayson, 10; Tinsley, 8; and Presley, 7 months.
"As a father and a husband, I want to build something to hand down. That's my main goal," Brent said. "We have big plans for this place."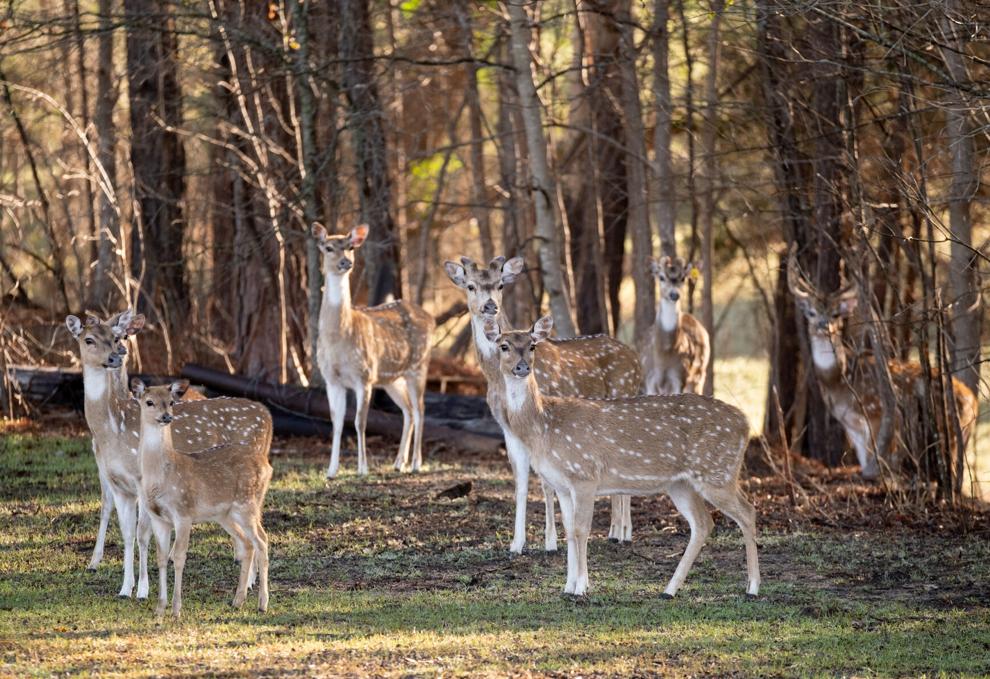 Wildlife
The Fyffes have six children – and countless exotic animals.
Leah said her husband is an "animal whisperer" to the numerous deer, sheep, cattle and other animals who call the Fyffes' 45 acres home.
The spotted fallow deer, axis deer, transcaspian urial sheep and at least a dozen other species of animals wait patiently every morning for Brent to come and feed them. Once skittish and somewhat anti-social, the animals now come up to Brent like a pack of oversized puppy dogs.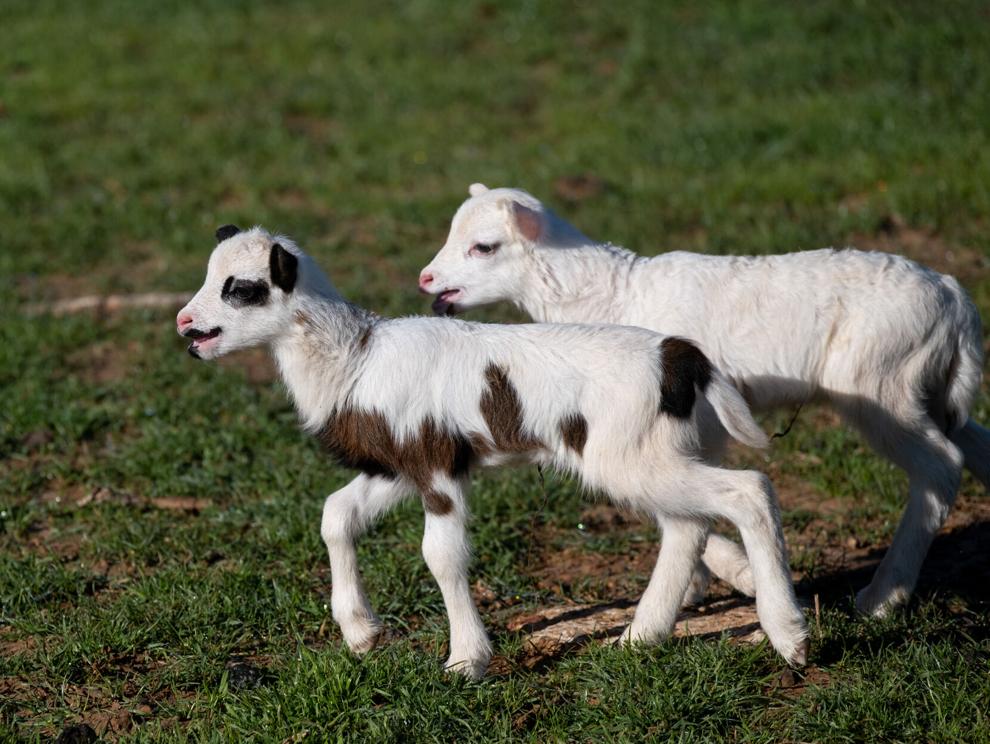 "They depend on me," Brent said. "If they didn't have to depend on me for food, you might never see them. Plus once they're up here to eat, they won't run off because they don't want to lose their spot in line."
The animals are a fascinating sight to those who come to Shadow Ranch for events, a lodging stay or even just a trip to The Market.
"It's a big part of the experience," Brent said. "Guests love it when they come out to the house to stay or have birthday parties at The Barn because the animals are roaming free. They can pet them, take pictures … People really enjoy it, it's neat."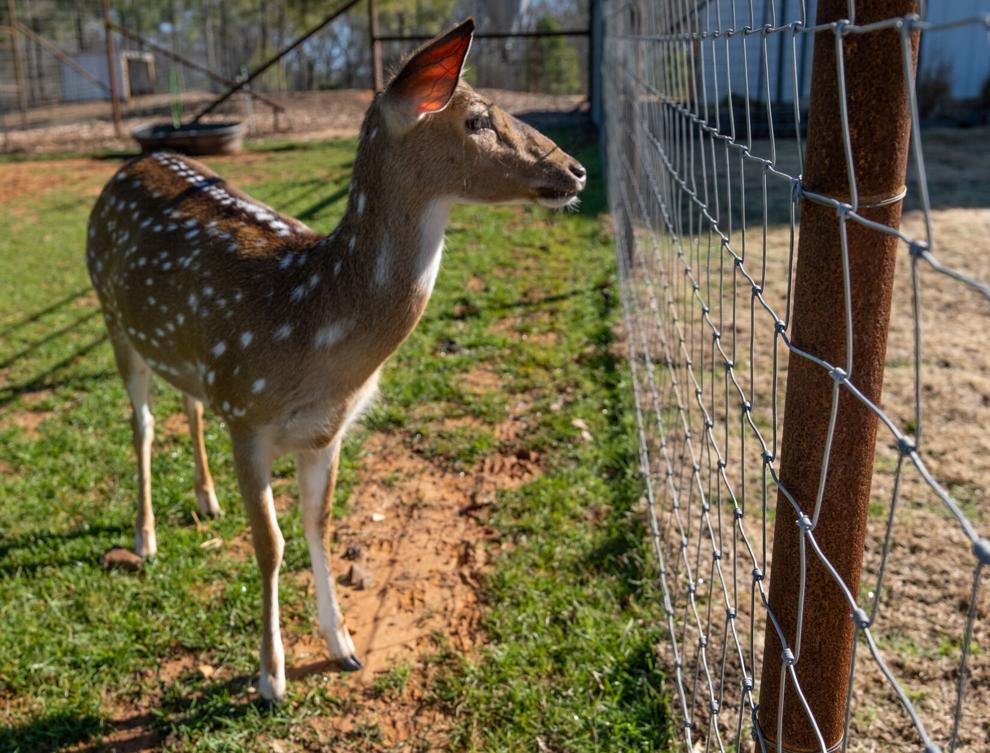 The animals are from all over the world and many come from other farms in Texas. Brent is constantly trading and adding new animals to the lineup.
Many of the animals have names, including the property's "faithful donkey," who goes by Jack. The family bottle-fed two now fully-grown spotted axis deer, who are called Spotty and Dotty, lovingly named by the Fyffes' children.
The Fyffe children are involved on the ranch, whether it's hunting a deer's fallen antlers on the property or helping their dad with feeding or other tasks. Leah is also involved in the day-to-day operations, from helping with The Market or checking on the property.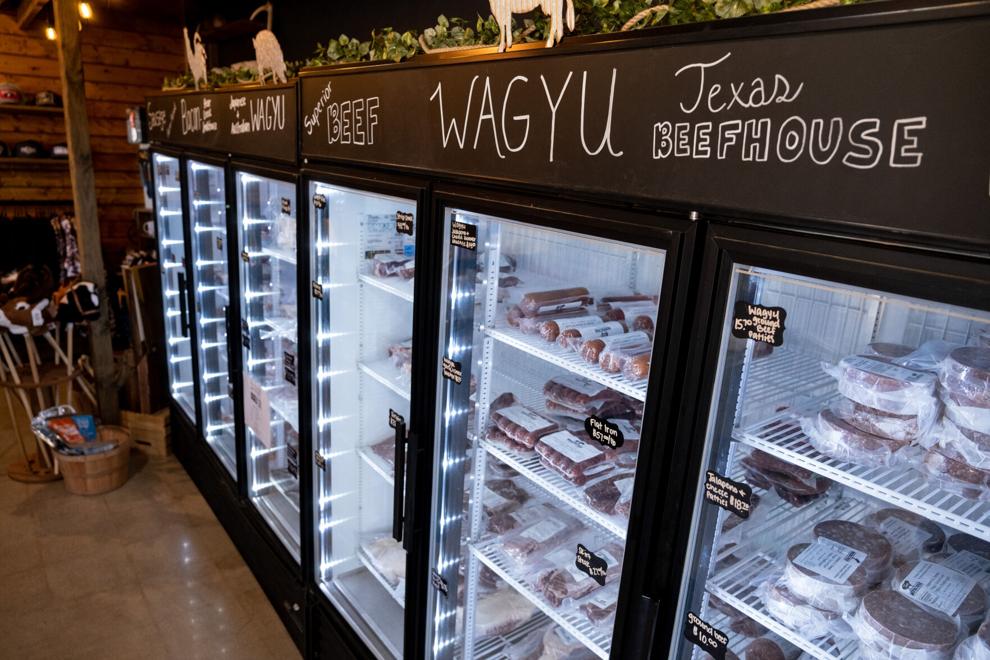 The Market
The building on State Highway 300 has been home to several different businesses throughout the years, Brent said. When the Fyffes purchased the store in August 2019, it was an old, run-down gas station. Since then, the couple's vision has come to life as a successful specialty market.
The Market's hottest commodity is its Wagyu beef, which currently comes from Whitehouse supplier Texas Beefhouse.
"It's our No. 1 draw for the store," Brent said. "With us being in between two cities, people have to have a reason to come out to our market, and the Waygu seems to be it. We get people every day who come here just for that."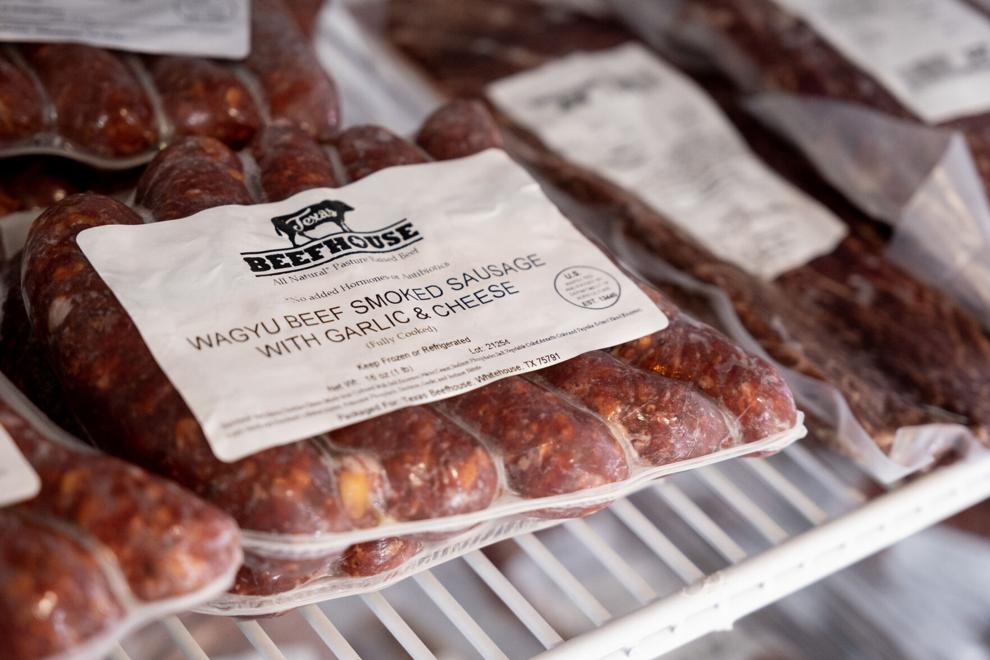 Wagyu beef is one of the most luxurious meats in the world, featuring a distinct marbling that creates a one-of-a-kind buttery texture. And it comes with a high price tag, too – top-grade Wagyu can cost up to $200 per pound.
The Market at Shadow Ranch stocks the finest premium cuts of Japanese, Australian, and American Wagyu beef, including Japanese A5 grade – the choicest cut of meat in the world.
In Japan, the cattle live a completely stress-free lifestyle. Brent said some farmers are believed to massage their cows to relieve stiffness and let them drink beer to stimulate their appetite.
"They're adamant about not having a stressed cow," he explained. "It tastes better."
American Wagyu is crossbred with Angus and Holstein cows.
"That way, the cut gets more meat to it versus all marble," he said, adding with a laugh that "Texas people, we like our steaks."
The American Waygu is raised like a normal steer, Brent said, but the meat still has that exceptional texture and flavor.
At the end of the year, Brent said Shadow Ranch will be able to supply its own Waygu and other premium beef along with its own pork, from livestock raised on their ranch.
The Market also sells summer sausage and other premium beef products, with cuts ranging from ribeye, to New York strip, filet, flank, flat iron and loin steaks, prime rib, hamburger and stew meat.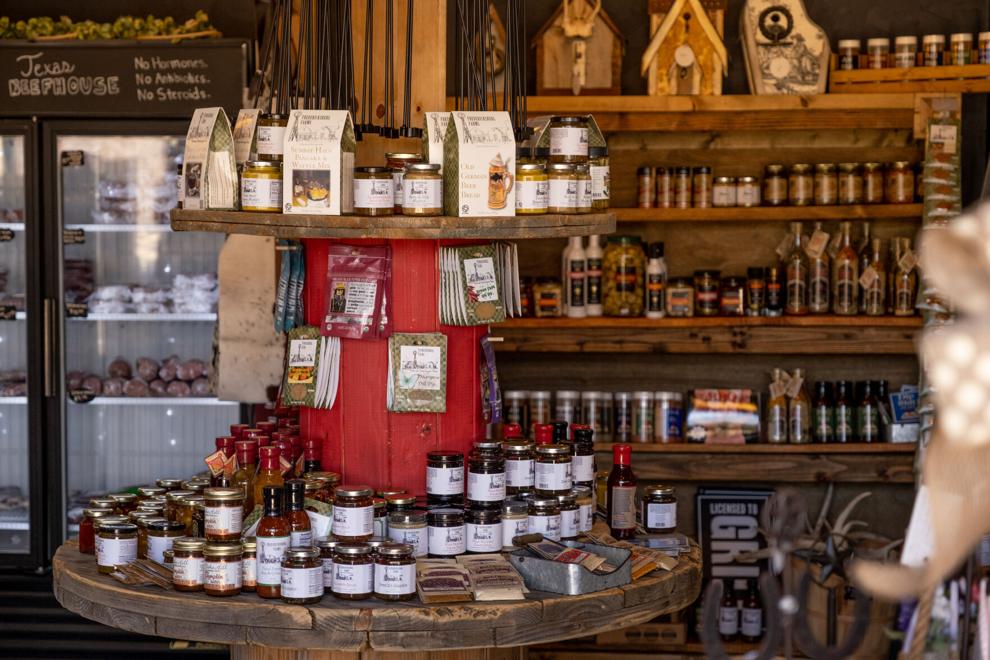 Most people may stop in The Market for its beef, but patrons can also enjoy a selection of gourmet food, including cheese, fresh pecans, jams and jellies, spices and more. The country store also has candles, cutting boards, apparel and other oddities.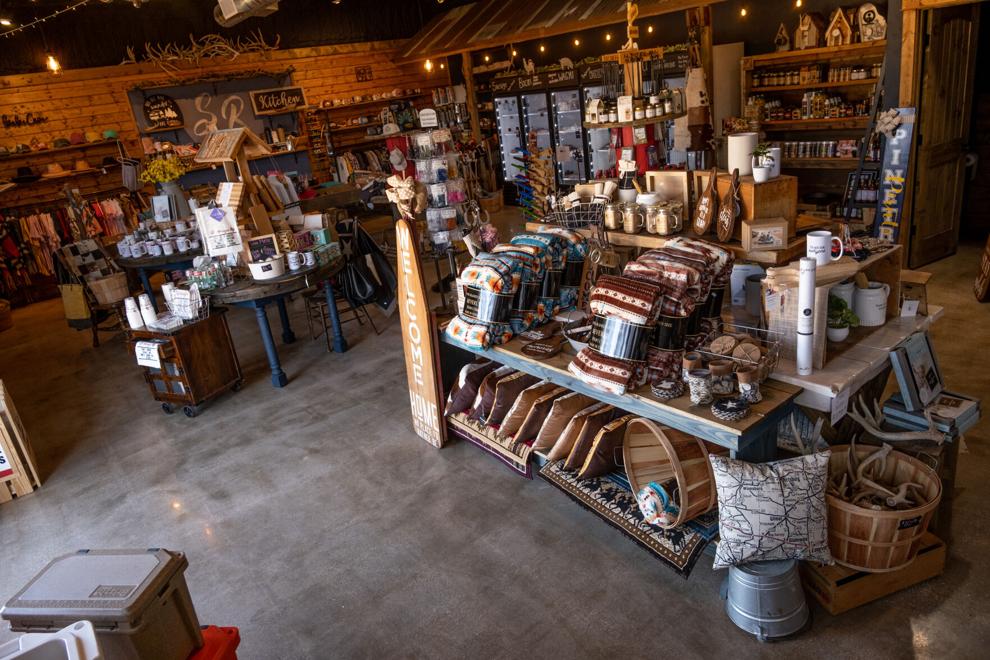 Brent said the majority of products featured in The Market are made in Texas, such as Arp-based Red Dirt Hat Company or Fredericksburg Farms out of Luckenbach.
Leah is the creator behind Shadow Ranch Candle Company, which consists of a variety of scented candles that make for a classic gift.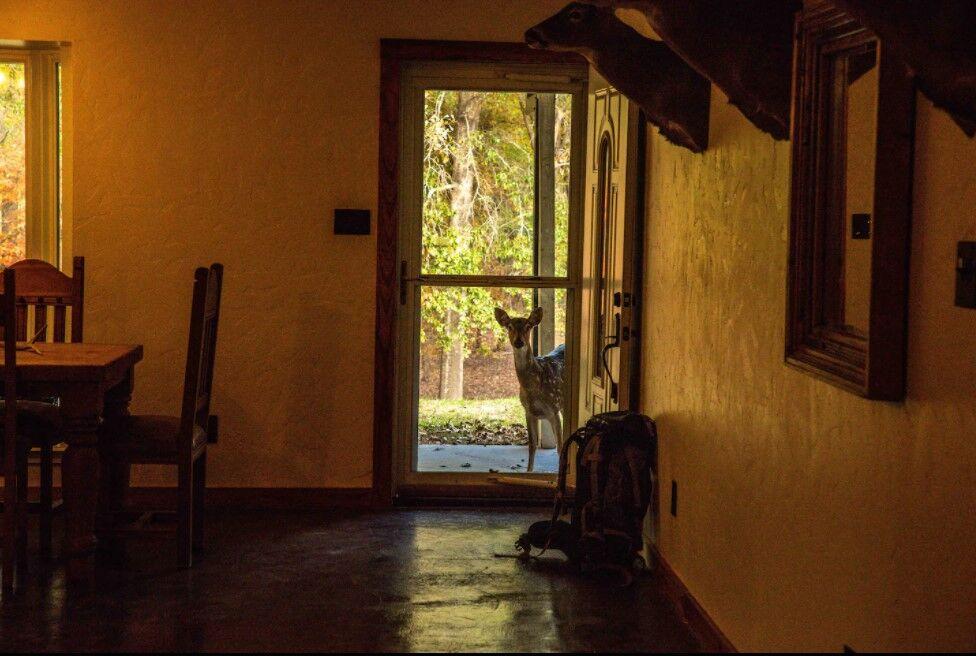 The Lodge
Situated in the middle of the ranch is a guest house that makes for a relaxing getaway close to nature without giving up modern amenities.
The Lodge at Shadow Ranch can accommodate up to 12 people in its four bedrooms, featuring rustic decor such as a cowhide rug, deer mounts, hand towel racks made of deer antlers, and log-inspired guest beds.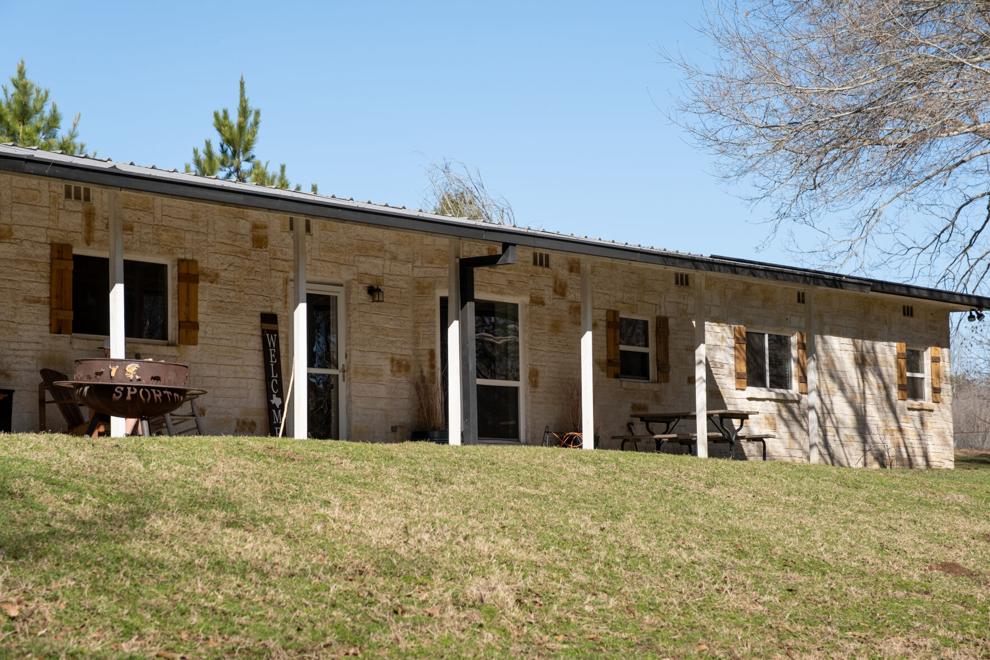 Guests rave about sitting out on the patio's rocking chairs, overlooking the property's scenery. The best part about staying at The Lodge is – no question – the exotic animals that roam freely.
Airbnb reviews say things like, "There were SO MANY animals right out our front door, the view was beautiful," and "the wildlife was awesome to see that closeup." Another reviewer on Vrbo bragged about getting a selfie with one of the deer who "loved hanging out" with them.
One guest called it "by far the coolest and most unique Airbnb experience" yet.
The Lodge was launched in October 2021 and the Fyffes said so far, it's been nothing short of a success.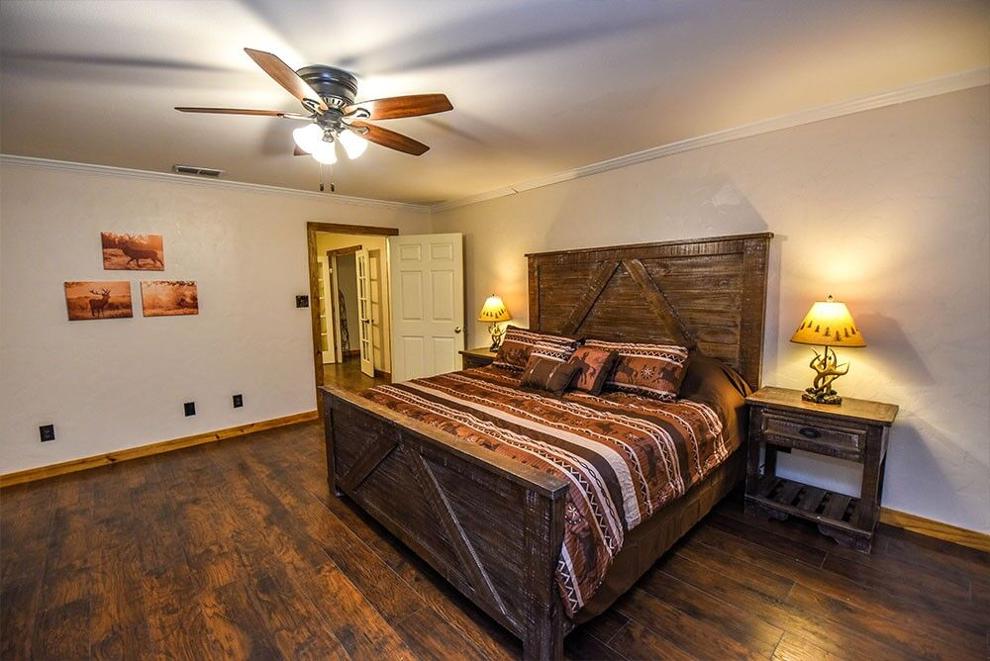 "People like to come experience ranch life for a day or weekend," Brent said. "Sitting out on the porch and watching the deer come up to the feeder in the afternoon or just walking around the property, throwing rocks by the pond, enjoying the view."
Built in 1995, Brent has completely renovated the house, although he has several projects in the works, such as extending the patio, converting the garage into a full game room with pool tables and more.
This isn't your average Airbnb experience where a key is locked in a box and you never see a host. Guests check in at The Market, where Brent meets them, shows them around the house and property, and gives them his cell phone number for anything they may need during their stay.
The Lodge stays booked, ranging from $350 per night, and a number of people have been repeat guests.
The Barn
When Brent and Leah's oldest daughter wanted to get married in a barn, she had to look no further than her daddy.
"She wanted to get married in a white barn, so we built a white barn," Brent said with a smile. He thought that'd be "easy enough," and soon the idea spurred into a full-fledged event venue and part of the larger Shadow Ranch vision.
The Barn's rustic elegance is ideal for weddings, rehearsal dinners, banquets, showers, parties and anniversaries, or family reunions.
According to Brent, the space was designed to accommodate just about any style of event possible, featuring a neutral color scheme that can be a blank slate for any decorations.
The Barn can seat about 100 guests in its main area, but it can also be arranged to suit more intimate affairs. To allow more seating, on one side of The Barn there are four stalls, each with a double door, which can be converted into private rooms or opened up.
There's also plenty of fenced in outdoor space with options for firepits and other amenities.
The Barn also features a bar area complete with a small sink, ideal for catering or a bartender at a wedding or other event.
Many who book The Barn as a wedding venue choose to also book The Lodge for guests or personal accommodations.
What's next
As time goes on, Shadow Ranch will continue to grow.
The Fyffes want to build something that will last a lifetime, and Brent said he has no intentions of slowing down anytime soon.
Whether it's booking more events, adding more animals or executing projects around the property, there will likely always be exciting things to come for the ranch.
Something Brent really wants to do is find a way to give back to the community. While he's not exactly sure what he'll do just yet, rest assured that his wheels will be turning until an idea comes to fruition.
Keep up with the Fyffes and their ranch life at Shadow Ranch on Facebook or at shadowranchtx.com, where you can also book the venue, guest house or get more information about items at the market.