He's known by many names.
In French, he's known as Père Noël. In Spanish, he might be called Papa Noel. In Dutch, he's known as Sinterklaas. In English, he's called Father Christmas, Saint Nicholas, Kris Kringle, Saint Nick.
Most simply know him as Santa Claus.
But in East Texas, he's Santa Flavious.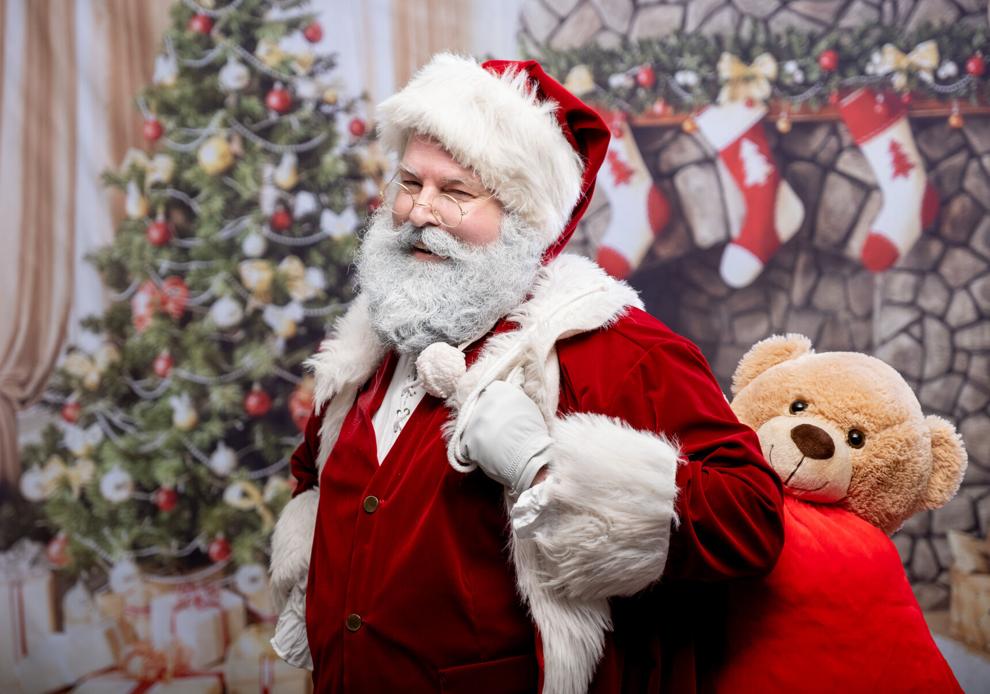 Flavious is an East Texas man who keeps his identity concealed as he dons the traditional red hat and suit. His high-end suit paired with his authentic beard makes children and adults alike think they're really looking at the jolly old elf.
But being Saint Nick is about more than just a costume. It means truly becoming Santa Claus and all that he represents as a beacon of hope and joy during the holiday season.
"Working with children in my 'alternate' life for the last 15-plus years has prepared me to enjoy making kids smile as Santa all the more," Flavious said. "I truly love this thing called Christmas, the season of hope, and everything and everyone that comes with it."
When Flavious was a child, he recalled, his mother enjoyed hosting and decorating for Christmas. For him, the Christmas seed was planted early and grew as he watched his family enjoy celebrating the holiday.
"I eventually grew up and even became a father myself," he said. "However, the wonder that Christmas brought never left me. Watching that same joy through little eyes only strengthened the hold that Christmas had on me."
When his son was in high school, Flavious was asked to participate as Santa in a Christmas play. The costume, he said, was "decent" but the beard was "not real" due to short notice of the play.
"If I had been given some advanced notice, I could've given Gandalf a run for his money," he said.
The effect was the same: He enjoyed playing Santa.
What he perhaps most enjoyed was seeing his father attend the high school production. His father, who also resembled Santa, had children convinced that he was "the" Santa Claus, Flavious recalled.
"At that point, it had been just over a year since my Mom passed away and with her, my Dad's passion to celebrate Christmas," he said.
But that night, Flavious watched as his father sat beside a woman dressed as Mrs. Claus who was posing for pictures with children. The children requested pictures with him and he went with the flow.
"And there he was, during the show, seated in the front row, as his son, 'Santa' made an entrance from the back of the auditorium. I looked at him and, much to the laughter of the audience, asked him, 'Are you trying to put me out of a job, sir?'" Flavious recalled. "Many people forgot their cares that afternoon, not the least of which was my Dad. I had such a great time, especially interacting with the little ones.
"And so, I secretly hoped for more opportunities to portray this magical character."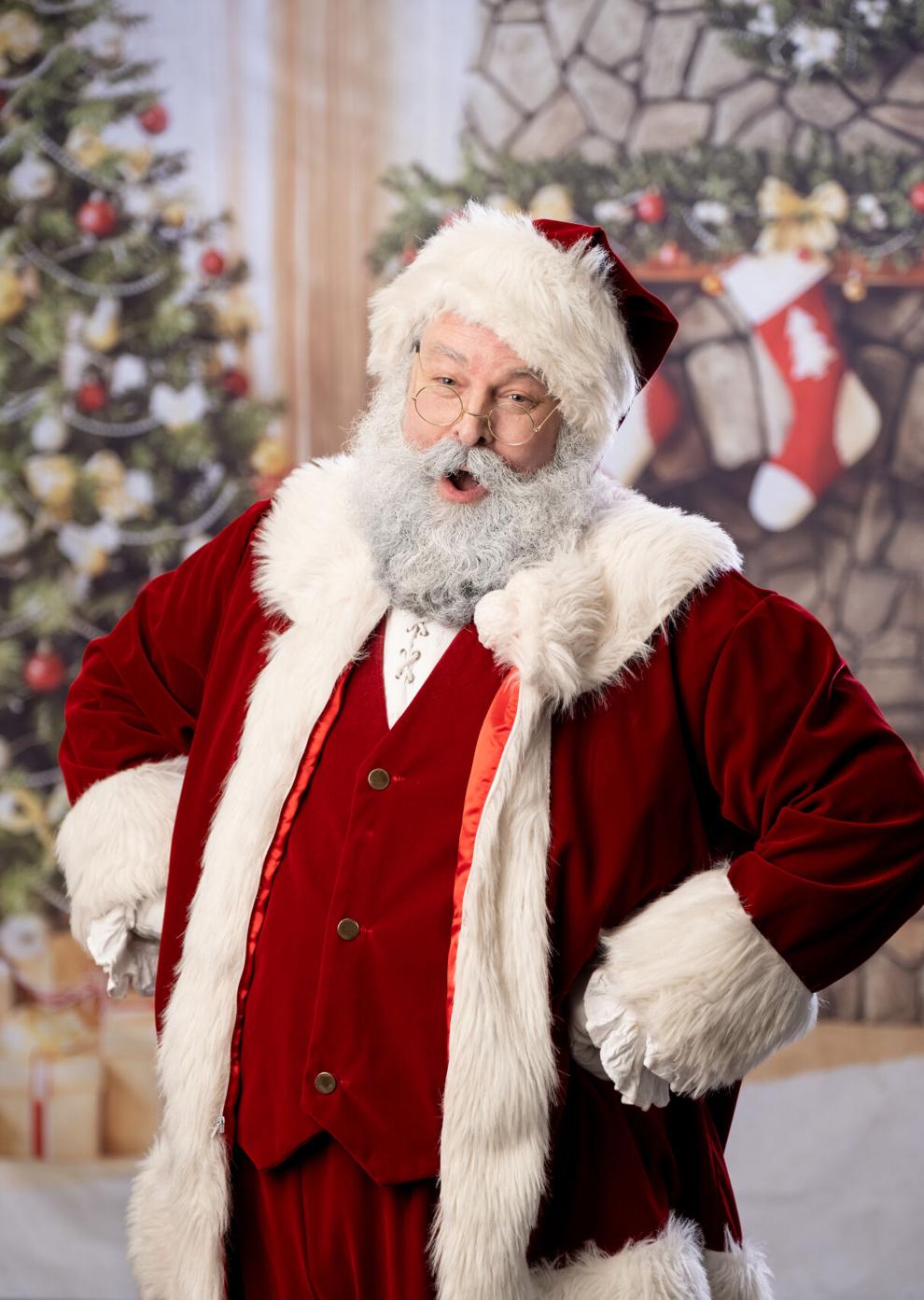 It was years later, in 2015, when another opportunity finally arose. He received a call from a local photographer whose Santa had canceled for a Christmas photo session. The costume was already rented and Flavious had a full beard at the time, so he agreed.
Flavious enjoyed interacting with children at the photo shoot.
"Really and truly, it was just really cool. I just watched these little kids light up and they legit thought, 'This is Santa,'" he said.
After the shoot, he asked the photographer to take an 8-second video of him dressed as Santa singing a parody song. He put the video on his personal social media account. After a couple of weeks, the video had received more than 1 million views.
That was the moment he realized he could be Santa for more than just one photo shoot.
"That was really the catalyst of the whole thing. I enjoyed it. I was warming hearts," he said. "And I was wearing a rented costume on a moment's notice. I thought, imagine if I really put my passion into this thing."
So he did. He purchased his own Santa outfit and came up with his Santa moniker, Santa Flavious. The name Flavious is derived from his childhood. A young woman he grew up with claimed she had a friend named Flavious.
"I said, 'That's a ridiculous name, and I don't believe you until I see him.' Well, I never saw him. For the longest time, it was an inside joke," he said. "So when it came time to become Santa, I thought, do I do like most of the other Santa's (who use their name) and go Santa Bob, Santa John, Santa Ralph … Something that is just Santa with their normal name, or do I come up with something crazy ridiculous that will stick in people's memories."
That's when he thought about the name from his childhood — the name that had never left his memory.
"I was like, it's got to be Santa Flavious," he said.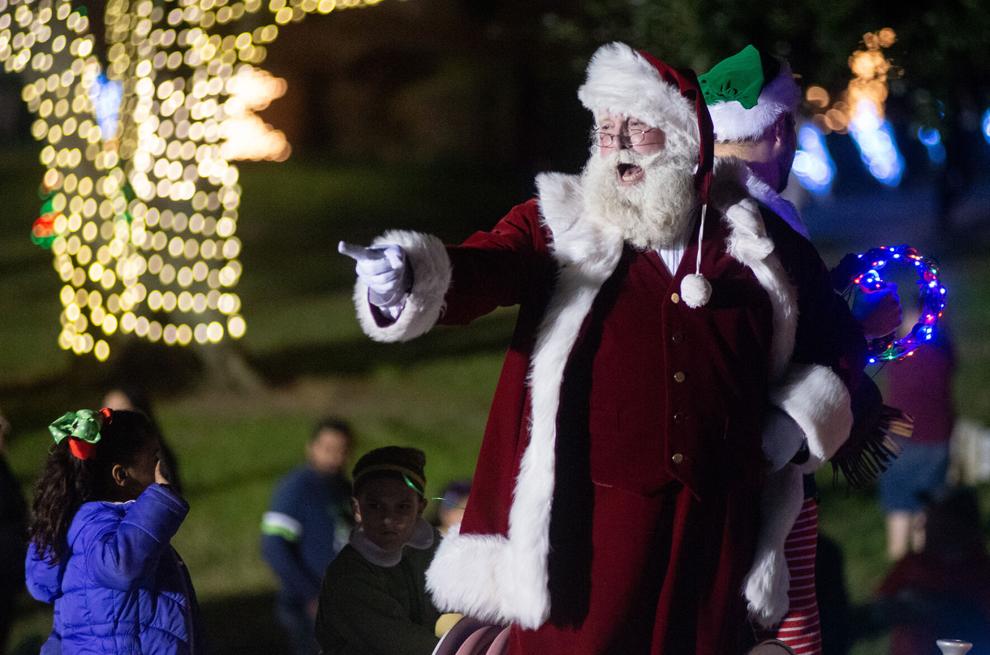 In 2016, he also found a sidekick in Joshua the Elf, also known as Josh Mandreger of Longview. That year, the dynamic duo — both of whom are musicians in their free time — went on to entertain East Texas audiences.
In the five years since, they've entertained audiences big and small across East Texas and beyond. They've been part of such crowd-drawing events as the Longview Ambucs Christmas Parade and the Longview Community Christmas Tree Lighting. In Kilgore, they've been seen at the city's annual Mingle & Jingle and the Rangerettes Christmas show. In Tyler, they've appeared at the Smith County Child Advocacy Center. The duo has also been to Hallsville, White Oak, Gladewater and Henderson while traveling as far as Dallas and North Richland Hills for appearances. They've also performed a number of private and charity events, and even partnered with Pflugerville Public Library for a virtual story time with Santa in 2020.
They strive to make each and every visit special for the children and adults they are entertaining.
"I absolutely love doing this. You see the little hearts melt and the eyes light up," he said. "It's good stuff."
When he visits with children, Flavious said he receives typical requests for whichever toy is popular that year. He's also received some requests for "crazy stuff, like full-blown weapons." But he's also experienced the "heartbreaking" requests, such as children who simply ask for their Dad to come home.
"And then you have to say exactly the right thing. You try to give them as positive of an answer without making a promise that you absolutely have zero control over," he said. "As a Christmas ambassador, you might say, 'I will absolutely see what I can do about that.'"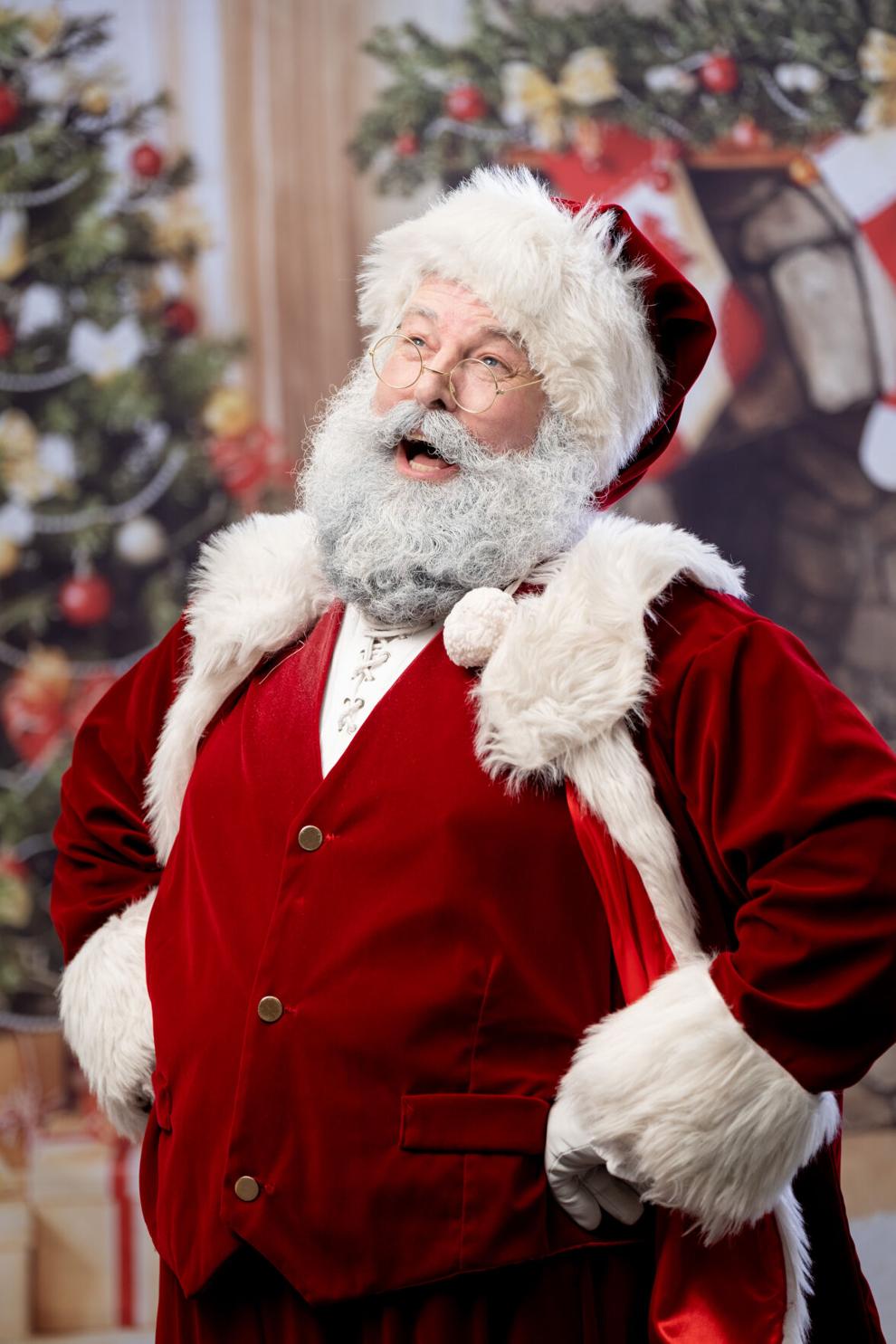 In what he describes as his "alternate life" (the one in which he's employed full-time), Flavious has worked with children for more than 15 years.
"You can see it written all over a child when they're walking up to you — that brokenness, that longing for something in their lives. Those are the tough cases," he said. "You absolutely want to leave that child with something genuine, whether it's just an extra tight hug or some kind of word of affirmation.
"I am a strong proponent of the underdog. The underdog is high on my radar. When I see or feel or sense someone that's disenfranchised, that is absolutely my heart's cry to leave them with something good when they walk away."
Flavious enjoys interacting with adults just as much as children. In Longview, a visit to Buckner Westminster Place — a retirement community — left him with special memories.
"Watching folks in the Memory Care Unit just lean on you and hug you," he said. "It really is true what they say, from children 1 to 92. That's good stuff, man. I get to do that."
At Buckner, he asked a 104-year-old woman what she wanted for Christmas.
"She told me she had everything she ever needed," he said.
Whether he's visiting with children or adults, Flavious strives to make every experience memorable — as if each person is the only one he's interacting with that day.
"Five years later, it is my love for this season that drives me to make every encounter memorable for all, especially the heavy-hearted," he said. "If I can make someone smile, whether young or seasoned (like my Dad), even when they're walking through a valley, then that's the kind of Santa I want to be. I think my Mom would've loved that, too."
---
A Q&A with Santa Flavious: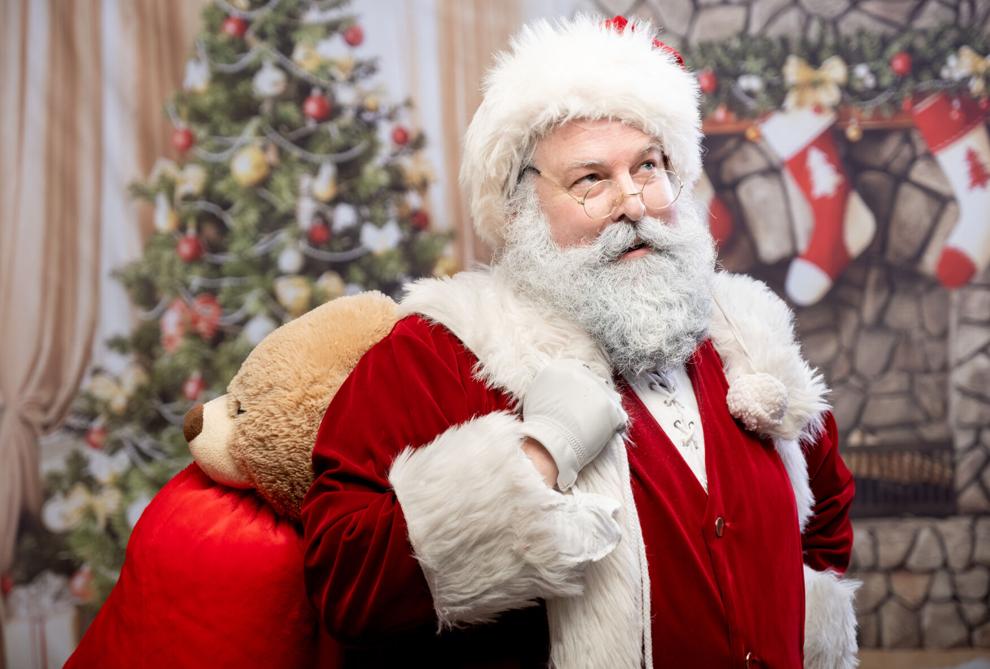 What's your favorite Christmas song?
"Rudolph the Red Nosed Reindeer." Not because of its popularity, but because of its often overlooked "underdog" theme. It helps to think of the lyrics side by side with the 1960s'claymation TV show about Rudolph that we've all seen a dozen times or more. You take someone who's been discarded and marginalized because they're different and not like the majority. You make them feel like they have no choice but to run to the island with all the other "misfit toys." That story just resonates with me.
Don't we still do that today? It breaks my heart.
I once sang a slow, ballad version of that song at an event and invited everyone that had ever been "Rudolphed" to come closer so I could sing it over them. Many stepped forward. I saw a grown man in the back weeping. Yes, he was crying to "Rudolph the Red Nosed Reindeer." Can you imagine his story?
If we could all see the potential of these beautiful "misfits" from the beginning, then maybe we would entrust them to "guide our sleighs tonight" much sooner. What kind of world would that look like?
What's your favorite Christmas movie?
I like "Home Alone," although that's not a traditional Christmas movie. I also love the original "Miracle on 34th Street," because the Santa Claus in that movie sings and speaks Dutch in one portion of the movie. My mother was half Dutch. So when he sings (in Dutch in the movie), it's like that's my mom and those were my Christmases growing up. The little girl who's sitting in his lap is so surprised because she doesn't speak English and it just melts my heart.
If you had to choose one toy to give out to everyone, what would it be?
The Slinky, of course. It's a classic.
What's your favorite cookie for children to leave out?
It might be easier to say what kind not to leave out. It might be easiest to mention the kind that I abhor and that would be peanut butter. That's not going to be a popular response. My favorite would probably be chocolate chip, but snickerdoodles aren't bad either.
What kind of milk with your cookies?
Whole milk, obviously.
What advice would you give to aspiring Santas?
1. Don't ever put your glasses on to where you're looking through them. Santa always has to look over the glasses. It just makes you so much more Santa-like.
2. Don't ever wear your hat completely horizontal. It's got to be slanted. It gives you more character. It's just more welcoming to see an angle on your forehead. It just looks cooler, man.
3. This one is the most important: Make every single encounter special and like that's the only child you're seeing that day. Pour everything into that encounter with that child.