Like many East Texans, Casey and Mandy Beddingfield enjoy getting away, unplugging and relaxing with family while spending time in nature.
The Beddingfields, of Kilgore, have an RV that they stay in on Colorado vacations, where they cook traditional campfire breakfasts, spend time exploring the mountainous landscape and enjoy family time around the fire pit.
"That is usually a time when we're not taking a lot of phone calls or responding to emails. We're unplugged and we just enjoy spending time together," said Casey Beddingfield, who owns RLM General Contractors in Longview.
At RLM, Beddingfield and his team keep busy on many construction projects across East Texas. The family-owned business has constructed many noteworthy facilities, including FRESH by Brookshire's in Tyler, EcoLand Early Learning Center in Kilgore and Lear Park in Longview.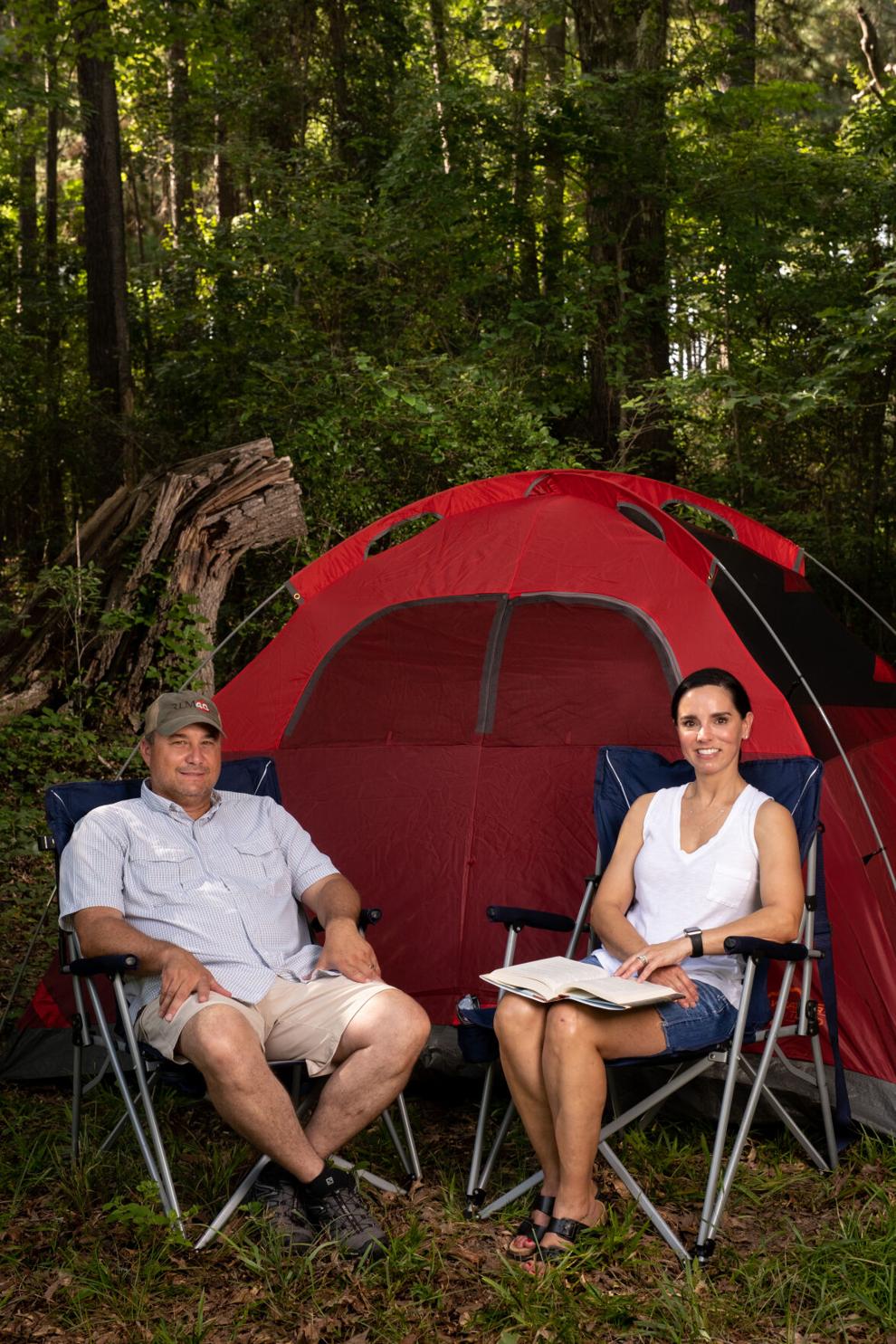 When they want to unplug, the Beddingfield family takes vacations in Colorado where they spend much time outdoors. Beddingfield said they ride motorcycles through the mountains, allowing them to easily traverse 100 miles in a day.
"We rent side by sides and we ride up to the mountain tops – it's absolutely breathtaking," Mandy Beddingfield said.
The Beddingfields are among many East Texas families who enjoy spending time outdoors whether close to home or far away. While many people prefer going on outdoor adventures away from the area, there also are many opportunities to reconnect with nature close to home.
Nearby state parks, such as Tyler State Park, Martin Creek Lake State Park and Daingerfield State Park, offer opportunities to camp, fish, swim, kayak, grill and spend time with friends and family outside.
Rachel Laca, superintendent of Daingerfield State Park, said it's important for adults to introduce their children to nature at a young age so they are raised to understand the importance of maintaining the natural and cultural resources of the region.
"They are our future stewards," Laca said.
There also are many health benefits to spending time outdoors, she said, as it is important to a person's overall wellbeing.
"It's an excellent opportunity for families to get away, enjoy activities and unplug," she said.
Daingerfield State Park offers a day use area and camping sites. The park has full hookups for RVs as well as tent sites and a few cabins. The state park also offers rentals of canoes, kayaks and other types of watercraft. Additionally, there's a public swimming area at the park's lake as well as a fishing pier for both young and seasoned anglers.
"We have beautiful walking trails that have an elevation to them," Laca said. "Our Rustling Leaves Trail goes around the lake and into the forest as well. We also have the Mountain View Trail which is at a higher elevation and allows you to see a beautiful view of the Lone Star State."
Nearby, Tyler State Park features a 64-acre, spring-fed lake with 100-foot tall trees and historic structures. Like Daingerfield State Park, Tyler's park has camping sites that range from full hookups to cabins and screened shelters to tent sites. The park also features day use areas with public swimming, fishing piers, grills and more.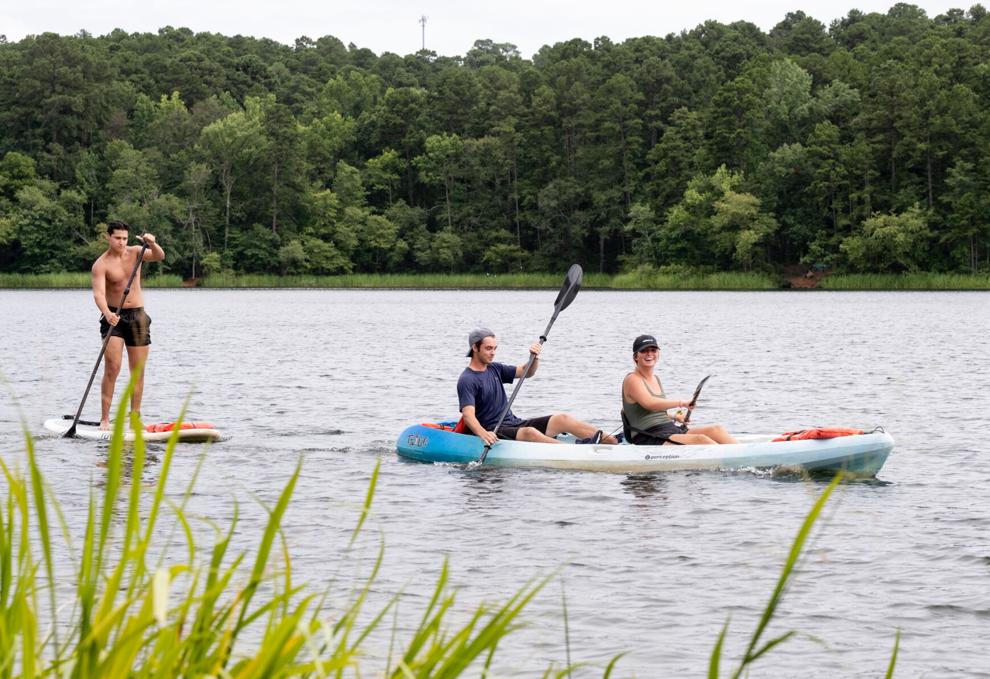 On a recent summer day, a group of young adults from Lindale Church of Christ spent a day of fellowship at Tyler State Park where they enjoyed spending time on the water.
"It's pretty relaxing just to come here for the day," said Luke Emerson of Lindale. "You're constantly stuck in the hustle and bustle of everyday life. Changing it up is sweet."
Frances Guerrero of Hawkins visited the park for the day to fish with her friend, Martin Rodriguez of Mansfield.
"It's an inexpensive habit," Rodriguez said, referring to fishing. "Even if you don't catch anything, it's just relaxing."
Rodriguez said he enjoys visiting East Texas state parks, including Tyler and Lake Bob Sandlin, for a change of scenery. Rodriguez grew up spending time outdoors. His father was in the military and the family had a pop-up trailer. When his Dad was being transferred from a base in Alaska to Wichita Falls, the family made a trip out of it.
"We literally camped all the way from Alaska to Texas, so I grew up camping and being outdoors and I just love it," he said.
His advice for new campers: be sure to bring bug spray and invest in a cot instead of a sleeping bag.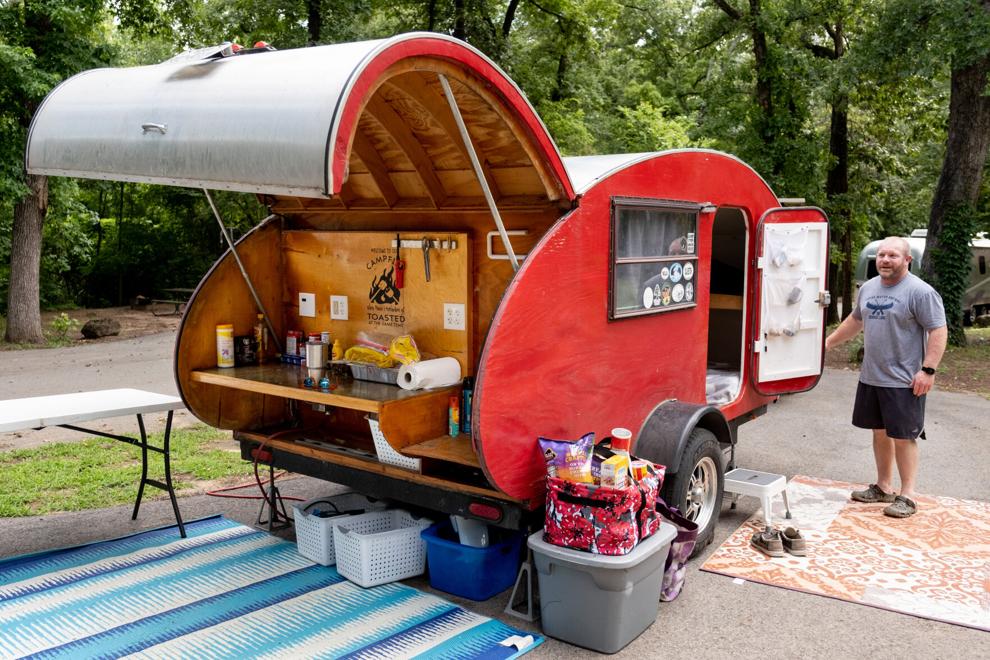 Tyler State Park draws tourists from across the state that come to take in the East Texas scenery. Clint and Christina Sutherland, of Sherman, visited the state park with their children, 16-year-old Emma and 12-year-old Mason, for a weekend of camping fun. Clint Sutherland built a teardrop trailer nine years ago that the family takes with them when they travel. The trailer is equipped with a full-size bed, two twin-size beds and a window air conditioning unit.
The Sutherlands often visit Tyler State Park because they have good friends who live in Tyler.
"We just enjoy getting away for the weekend," Clint Sutherland said. "We go mountain biking and swimming."
At Martin Creek Lake State Park in Tatum, Curstyn Wallace and her son, 7-year-old Jordan, enjoyed fishing for an afternoon.
"We just had a day off and we wanted to come fishing. … I try to keep him from being inside all the time in front of a screen," Curstyn Wallace, of Beckville, said.
Located 20 miles southeast of Longview, Martin Creek Lake State Park offers camping sites, nearly 4 miles of hike and bike trails, fishing and boating on Martin Creek Lake and opportunities for geocaching and picnicking. The water at Martin Creek Lake stays warm throughout the year thanks to a power plant located on it. The lake is the ideal home for largemouth bass, crappie, yellow catfish, tilapia, sunfish and more.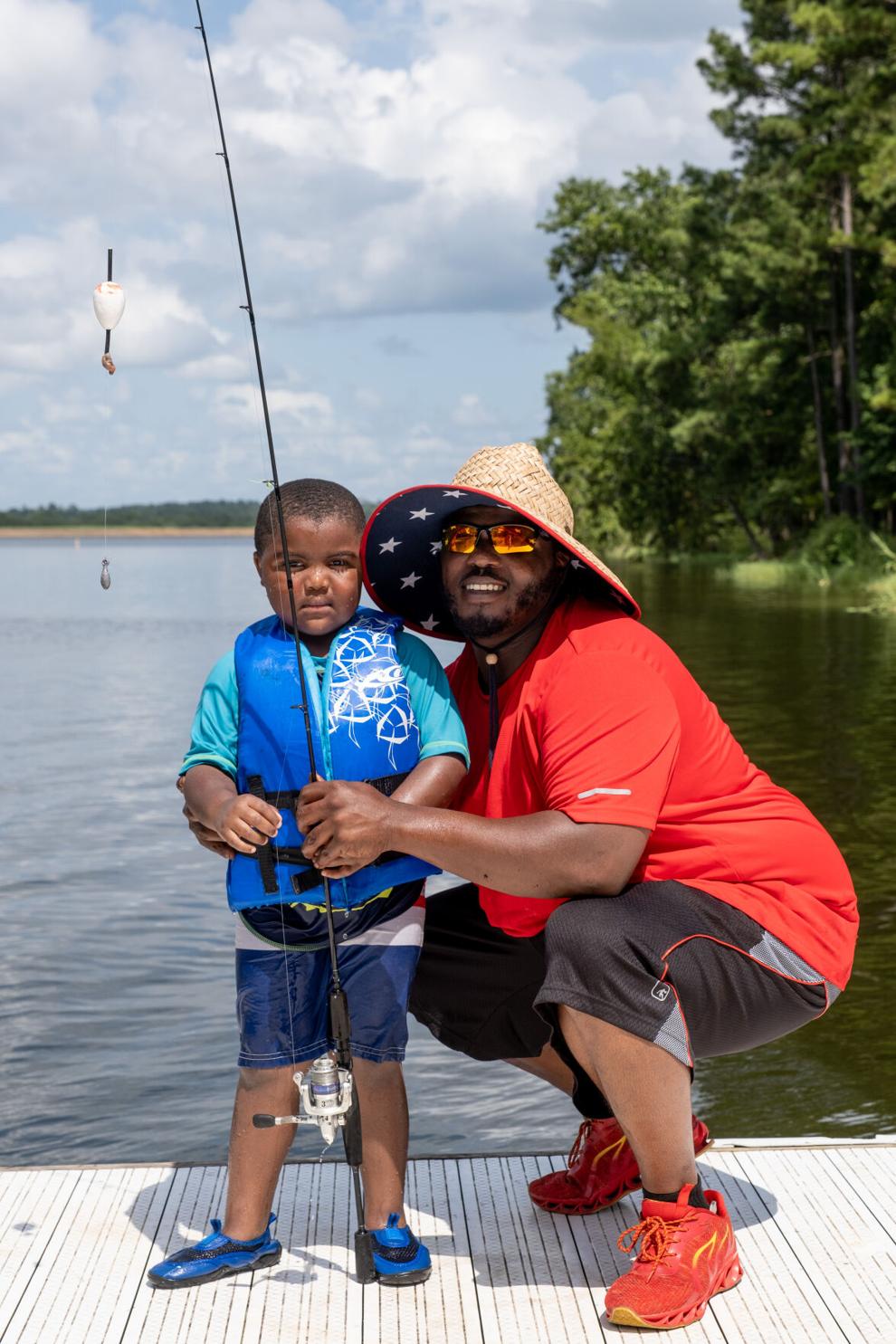 Rickey Burrell brought his son, 4-year-old Rickey Burrell Jr., to the park to go fishing. Burrell recently moved to Longview from Birmingham, Alabama, and has been getting acquainted with East Texas by visiting several state parks in the area.
While he fished from a pier at Martin Creek, his son swam within his eyesight nearby.
Burrell fished once when he was a young child but didn't pick the habit back up until last year. When he did, he found that he really enjoyed it.
"I just like the relaxation," Burrell said. "Just being outdoors with the sunshine and the sounds."