Each year, hundreds of children across East Texas have a happy Christmas thanks to the men in blue.
Through the Blue Santa program, police departments across East Texas provide holiday gifts to children in need in the community.
Children can become part of the Blue Santa program in a variety of ways. For example, a police officer might recommend a child. An individual or organization, such as Court Appointed Special Advocates (CASA), may also offer a recommendation.
Thanks to community donations, officers across Tyler, Longview, Kilgore and beyond are able to provide holiday gifts for children in their respective programs.
Tyler Police Department Officer Chuck Boyce has served as a mentor to other officers across East Texas, who lead Blue Santa programs. Boyce said Blue Santa is special because of the lives it impacts.
"If we were to give 99 Christmases out and we only made a difference for one, I would continue doing it," he said. "Because it's about that one."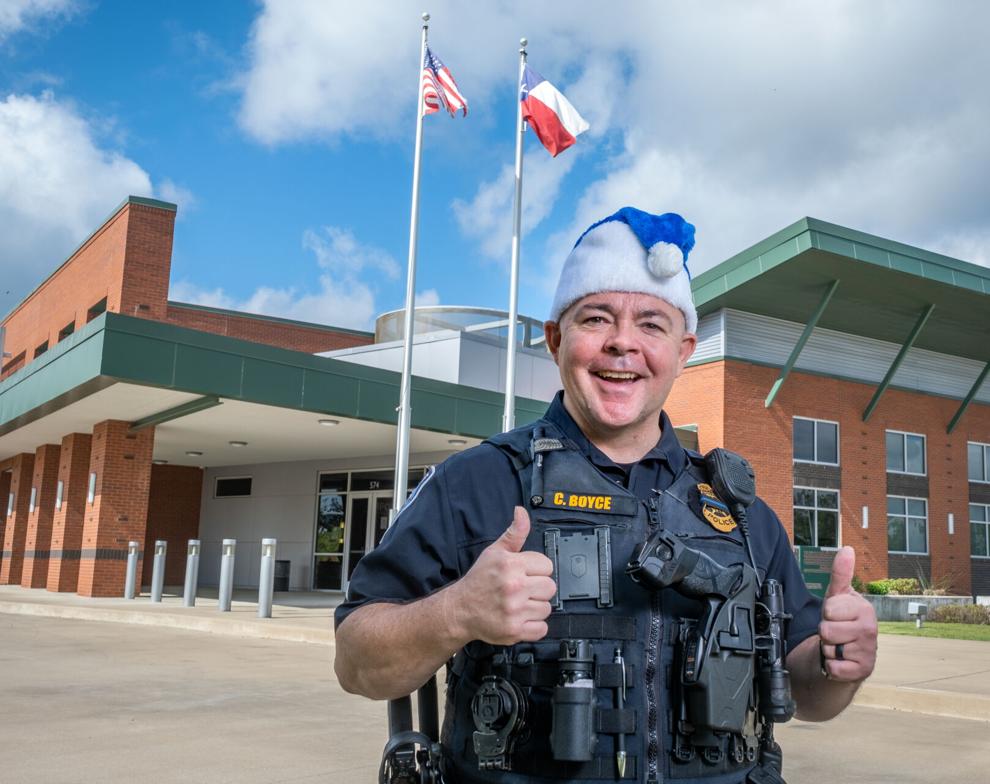 Tyler Police Department: Chuck Boyce
After the 2008 housing crisis, Tyler Police Department Officer Chuck Boyce came to East Texas from Tennessee in need of a new career and seeking to help people.
He was a home builder for 15 years, and as homes were going for 30 cents on the dollar, he and his wife "literally lost everything." He knew a friend in Tyler who had a job in law enforcement, and the job sounded appealing.
His desire to help others led to not only serving as a police officer but also becoming heavily involved in and now leading the Tyler-area Blue Santa program. Blue Santa provides a shopping spree for nominated kids to shop at Walmart with first responders in December.
Children become a part of Blue Santa in four different ways: an officer choosing a child, the kids who have come over the years, children from CASA or the children's advocacy center, and those who enter through a self-nomination process.
Boyce, Tyler Patrolman's Association FOP Lodge 182 Blue Santa committee chairperson, said both the officers and children enjoy Blue Santa. He added that it's a gathering place for officers.
"I mean we have more fun than I think the kids do. Some of the shenanigans that happen that night because we don't get together that much," Boyce said. "The only time we all get together is at funerals. So this is something joyous for us to all get together for."
Boyce began serving with Blue Santa when he was going through a training program. He started helping a sergeant who was gathering bikes for children, and he got involved with Blue Santa the same year through the FOP Lodge.
For him, he hopes to always be a part of Blue Santa, and he's trying to get younger officers involved to continue the program.
"Blue Santa's just good. You'll hear your negatives and you've got to take them," he said. "Some of the negatives are that some of those kids don't need it. OK, I'll give you that maybe they don't need it on a monetary level. They need it on another level. They need it on the level of trusting the guys in blue."
Boyce hopes through Blue Santa the kids see that officers are human, not machines.
"We've got to change that perception and I think that's what it does," he said. "I think it breaks those barriers down, and it also fills the need. A lot of those kids are not going to have Christmas if we don't do it."
Boyce emphasized that impacting the kids through Blue Santa is about the quality of the child's experience rather than quantity.
"Even if 99 out of 100 kids did not need it monetarily or any other level, it's not about those 99, it's about the one that did need it," he said. "If we were to give 99 Christmases out and we only made a difference for one, I would continue doing it. Because it's about that one."
Being a part of making a difference feels good, Boyce said.
"It's a high, and it's a good high," he said. "Life's got ups and downs, and this just happens to be an up."
One of his Blue Santa favorite activities is the photo booth. He's looking forward to the day when a new police recruit brings one of those photos to say, "This is me back in the day."
"That's when I know that we have gone full circle and have nailed it," Boyce said.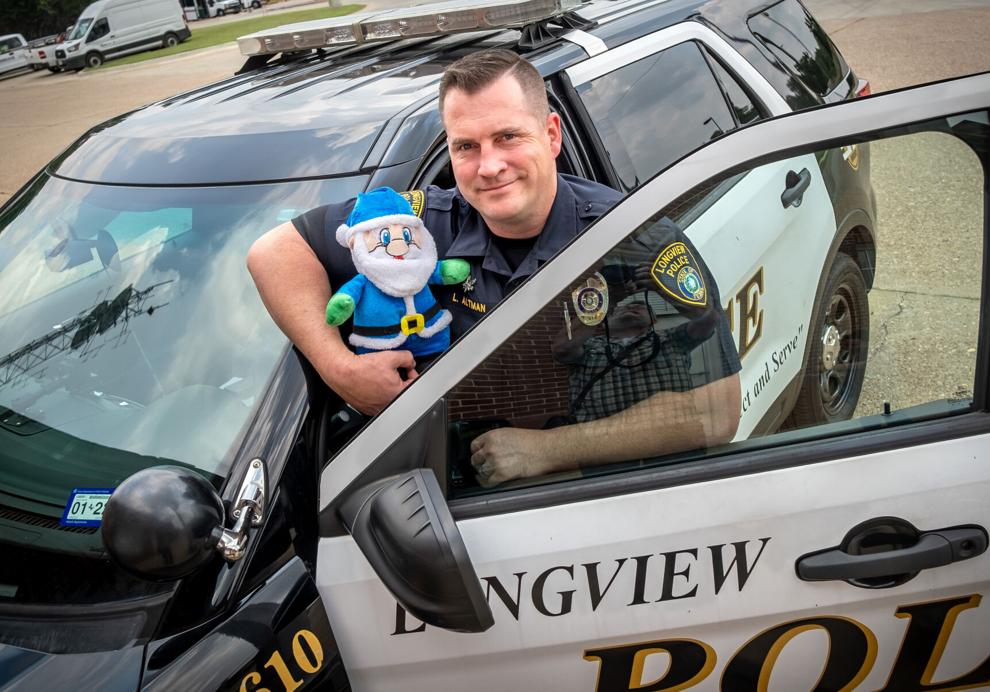 Longview Police Department: Luke Altman
In the summer, Longview Police Officer Luke Altman put on a fuzzy Blue Santa costume to promote a fundraiser that netted $13,000 in donations for a program that will support children this holiday season.
"It was insane," Altman said, smiling as he recalled the May fundraiser for the Blue Santa program.
Altman is the chairman of the Longview Police Department Blue Santa program. Through Blue Santa, police officers select children in need that they meet throughout the year to receive Christmas gifts.
In the past, the goal was to help 100 children. Last year, about 150 children were served.
"This year, we're going to be able to move probably closer to 250 kids," Altman said.
Altman gives credit to the community, whose donations sustain the program.
"It just blew up this year," he said, citing a BOSS Crane fundraiser and other donors. "A lot of people, they want to help kids and they don't always know where to go or how to help."
Altman grew up in the East Bay area in California with police officer parents. At one point, he thought he might be a firefighter.
"Growing up, I never saw myself being a police officer," he said. "I didn't know what I wanted to do so I went into the Air Force."
He ended up being stationed at Goodfellow Air Force Base which brought him to Texas.
After six years of active duty in the Air Force and being in military police, he decided to take the role of civilian police officer. He joined the Longview Police Department in 2007.
"It's a wonderful profession," he said. "It's honorable. It gives you a sense of duty."
When Altman became involved in Blue Santa, he said, Tyler Police Officer Chuck Boyce served as a mentor to him as he navigated the program.
When Altman first got involved, Longview Police officers were assigned a child to shop for as part of Blue Santa. Then Altman, his family and sometimes volunteers would wrap the gifts.
However, Altman said it could be difficult to know exactly what the children wanted or needed. He told Boyce he thought the program needed to be reorganized and he saw how Tyler police officers shopped with the children.
"It was cool that they got to shop with the kids," Altman said. "It was a no brainer."
In 2020, Longview Police shopped with children in small groups. The event was broken down into two days with five families scheduled each hour. Each child was matched with an officer and they shopped at Walmart.
While 2020 served as an experimental year, Altman said the program will operate similarly this year.
"I think this year I'll feel better because I've already ran through it once," he said. "Last year, I was nervous because you're nervous about it not working or something going wrong. It went well. I learned a few lessons along the way to make it run even smoother for this year so we're excited."
He hopes to grow it into more of an event with photo booths, hot chocolate stations and activities.
"I think officers or civilians that get involved in the Blue Santa program, it seems like a lot of work until you go shop with the kids, then it all pays off," Altman said. "You can see their faces and the excitement."
Kilgore Police Department: Stephen Goodson
Kilgore Police Detective Stephen Goodson's office at the police department is decorated with police related decor, Batman signs, artwork and even a canvas of a 17th or 18th century king with his face on it.
"These were all gifts," he said, chuckling. The canvas of Goodson as a monarch was given by his son with the stipulation that it had to be hung in his office.
Goodson works in the Criminal Investigation Unit. By a filing cabinet in the office, there is a clear bag containing a blue Santa Claus suit. By November or December, the whiteboard by the door will be covered with names of children and assigned officers for the Kilgore Police Association's Blue Santa Program.
"I try to put female officers with female children and male officers with male children," he said. "I don't know anything about makeup."
Goodson was introduced to the Blue Santa program about eight years ago by Tyler Police Officer Chuck Boyce.
"Tyler was having a Blue Santa program and he asked me if I would come up and help," Goodson said, adding he didn't really know what the program was but he knew what kind of person Boyce was. "Chuck would literally give you the shirt off his back. Literally, that dude, I have never seen him have a bad day. He's always smiling, always cheerful and he goes out of his way to help his fellow person."
Goodson said he was in awe of the Blue Santa Program in Tyler and that's how it began in Kilgore.
When officers are out on calls and they encounter children in need, they keep a list of the names and contact information to add to the Blue Santa list. Sometimes the families have been victims of crimes.
"I keep that list in my drawer here," he said.
The Kilgore Police Association takes donations from the public to fund the program in addition to officer donations.
"When I first started it, we weren't able to get like six children," Goodson said. "Through our funding and everything, last year, we have grown to where I have 25, 30 children, and these are all children that are in the city limits."
Goodson can't do it all alone. Kilgore Police Association President Sgt. Tim Dukes and the association's Sergeant at Arms Detective Joey Johnston help make sure everything runs smoothly. Goodson is the vice president of the association.
All the funds donated are spent locally in Kilgore.
"If I'm going to be completely frank, there have been times that officers have even just paid themselves," Goodson said. "We'll chip in a little extra to make sure they get the Christmas they want, too."
The goal is to take care of the items they need, such as a new coat or boots, and the toys they want. Each child also gets a bicycle.
Dukes takes bikes from an impound lot, paints and repairs them in his spare time, and they are given to children at Christmas.
"He refurbishes them and they look brand new," Goodson said. "They are beautiful."
In December, they pick a date and assign each family a time to bring the children to Walmart. Then the officers shop with the children.
"These officers, they don't get paid to do this," Goodson said. "They do this on their own time."
Goodson is from Tyler and has been with Kilgore Police for 14 years, starting off as a patrol officer and working up to detective in Major Crimes. Goodson decided to become a police officer because he wanted to help people.
"It sounds idealistic and I know it sounds kind of corny," he said. "We support our community and we love our community."