The holidays are often marked with tradition, whether it's family get-togethers, tried-and-true recipes passed down from one generation to the next, or driving around your local neighborhood to see the houses lit up with twinkling lights.
Some families take trips out of town to visit relatives and some stay home. But after nearly two years that have seen many staying inside or close to home due to the pandemic, maybe it's time to try something different with a trip to Grapevine, the Christmas Capital of Texas.
Every year, Grapevine celebrates Christmas in the most spectacular way.
"(It's) a busy, fun time for six weeks here in the Christmas Capital of Texas. With over 1,400 events, there is always something going on for all ages," said Sharron Rogers, Grapevine Place 2 City Councilwoman, who also serves as Mrs. Claus during this festive event.
"Having presented to the Texas Senate committee requesting designation as the Christmas Capital of Texas, which the Texas Senate unanimously conferred to Grapevine, it is an honor to play Mrs. Claus for our citizens and visitors alike," Rogers said. "It is a magical time in Grapevine with thousands of lights and decorations in our historic downtown and celebrations galore!"
With 40 days of events, plenty of activities and shopping, there is something for everyone to enjoy during the holiday season.
Grapevine is only a few hours away from East Texas, and you can easily take care of all of your Christmas shopping needs amongst the inspiring decorated streets and shops. Stroll down Historic Main Street or discover the 1.8 million square feet of shopping delight at Grapevine Mills.
Learn about Grapevine's charming past, take in a live performance at the Historic Palace Theatre, and experience the excitement of a train ride on the Grapevine Vintage Railroad's North Pole Express.
"Grapevine Vintage Railroad's North Pole Express has become an integral part of the Grapevine Christmas experience," said Ken Adams, train supervisor for the Grapevine Vintage Railroad. "It celebrates the magic and wonder of Christmas and encourages kids of every age to extend that 'magic feeling' that comes with the Christmas season."
Aside from the North Pole Express, Grapevine also offers wine trains, as the city is also known for its wineries.
"Our Christmas Wine Trains offer an escape from the hustle and bustle of the Christmas season," Adams said. "It is a great way to spend time with friends and family, while sampling some of the fine Texas wines in our beautifully decorated coaches."
According to Adams, the train coaches are approaching 100 years in age.
"(It) is truly impressive, but seeing them decked out for the Christmas season is breathtaking. They really come to life," Adams said. "Seeing the joy and wonder on a child's face, when they catch their first glimpse of the train, is one of my favorite parts (of) our Christmas excursions."
Families can step away from modern life and into the pioneer past with a trip to Nash Farm. Visitors will delight in late 19th century life on the farm.
"Christmas on the farm at Nash Farm is a great way for the family to experience the simpler traditions of the season," said Cody Jolliff, manager of heritage museums and education programs. "Guests enjoy cookies baked in the 1890s stove, make tree decorations, and explore the farm in winter with livestock and living history programs."
Holiday events in Grapevine include the 42nd annual Historic Parade of Lights at 7 p.m. Dec. 2; Victorian Christmas Tours at Nash Farm on Dec. 4; and the Christmas at Grapevine Craft Show on Nov. 27-28.
"Grapevine is the place to be anytime during the Christmas season," Rogers said. "The Christmas parade is a joy, and the Carol of Lights when we officially light up the town is a sight to see. I look forward to welcoming everyone to the Christmas Capital (of) Texas."
Experience the joy of Christmas in Grapevine between Nov. 22 and early January 2022. For more information to plan a trip, visit the website www.GrapevineTexasUSA.com/Christmas.
---
Great Wolf Lodge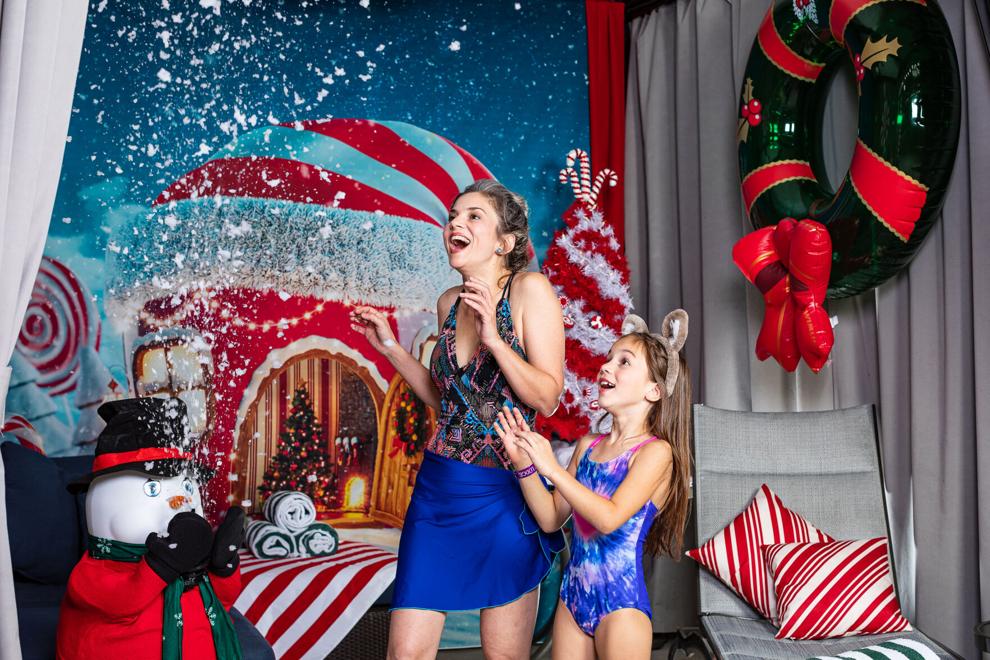 A trip to Grapevine isn't complete without a visit to Great Wolf Lodge, a resort that features an indoor water park. During the holidays, when guests enter the grand lobby of this popular tourist attraction, they are transported to a winter wonderland at the annual Snowland Celebration. Escape the fall and winter weather outside at Great Wolf's spacious 84-degree indoor water park and take part in the holiday spirit in their grand lobby.
Enjoy daily snow showers, twinkling lights, and a variety of fun and festive seasonal activities ranging from dance parties to story time.
"Core elements like resort décor and snow in the lobby are definitely going to be in the mix again this year," said Jason Lasecki, vice president of corporate communications for Great Wolf Lodge.
This year, the lodge has a fun, new experience to enjoy, he noted.
"We're actually introducing a new concept this Snowland season," Lasecki said. "(It's) a candy cane chalet-themed cabana for the water park, one where it will actually snow inside the cabana. The best part is $10 from each cabana booked is going to be donated to Make-A-Wish."
The Make-A-Wish foundation grants wishes to children with critical illnesses.
Families can start reserving these holiday-themed cabanas, which are available at select resorts, beginning Nov. 19. Each cabana is decorated with holiday-themed décor, including a candy cane striped holiday tree. A wreath-shaped inflatable tube is also included for use to float down the Crooked Creek lazy river.
Regardless of the water park's consistent warm temperature, snow will magically fall inside the cabana all day. Guests who reserve these unique cabanas will receive a special retail bundle containing vouchers for holiday-inspired beverages, keepsake mugs, commemorative ornaments and more.
No holiday celebration is complete without a visit from Santa, of course.
Santa shows up in holiday splendor after Thanksgiving, meeting with all the children who want to whisper their requests in his ear.
When booking a visit to the lodge, families get to enjoy two days of play in the park. All the fun and exciting Snowland adventures and activities are included as part of the overnight stay.
Families will have the opportunity to make unforgettable memories between attractions such as MagiQuest, Oliver's Mining Co., and Northern Lights Arcade to the exciting water adventures at Ft. Mackenzie, Whooping Hollow, and River Canyon Run.
Download the Great Wolf Lodge app for a schedule of events. For more information, visit the website www.greatwolf.com/grapevine.