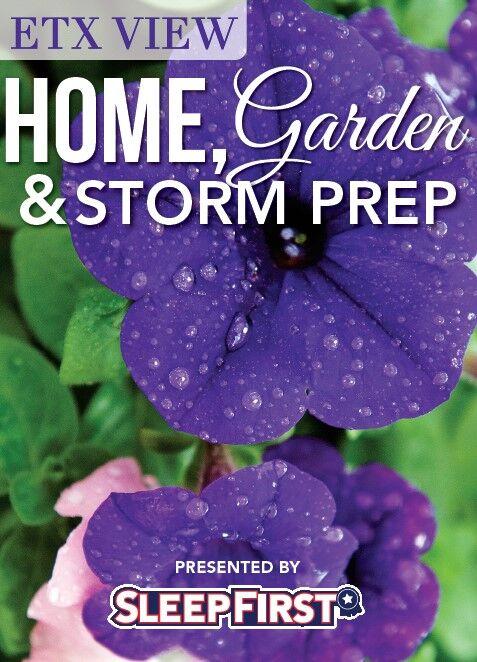 Editor's Note: This story was featured in ETX View's inaugural Home, Garden & Storm Prep special edition. Subscribers of the Longview News-Journal and Tyler Morning Telegraph received a copy in their April 7 newspapers.
In a real estate market punctuated by higher interest rates, higher home prices and a low inventory of homes for sale, many homeowners are looking at upgrading what they have rather than moving.
"When we saw the interest rates start progressing upward, then there comes a trade off between the interest rates and what you can afford in new construction and what it looks like to keep and fix what you have," said Temple "Tem" Carpenter.
The Longview councilman, who also works in commercial sales at McCoy's Building Supply in Longview, pointed toward a January report of economic indicators for Longview: the city issued eight building permits for new homes in January, which is "significantly less" than the 31 permits issued a year earlier.
All of those factors are driving more homeowners to home renovations and improvements.
Get outside
Carpenter said interest in "outdoor living" is one of the main drivers of home renovations and improvements
"We're seeing a lot of interest in, 'Let's get out of the house,'" Carpenter said.
Pergolas and gazebos are popular projects, he said, adding that McCoy's offers a service in which customers can bring in their own drawings for what they want in those types of projects and the store will develop the specific plans.
At Stone Works in Longview, Chief Operating Officer Blake Weber highlighted the growing popularity of outdoor pizza ovens. The store's outdoor kitchen display includes a pizza oven that is wood-fired and another that is gas-powered. Both have brick plates that heat up to make the bottoms of the pizzas crispy.
"There's advantages and disadvantages," for each type, Weber said. Some people like the flavors produced by the wood-fired oven, but the gas pizza oven will heat up quickly and easily and cooks pizzas in about a minute.
Outdoor griddles are popular as well, he said, because of the flexibility they offer in terms of what they can cook — they can sear steaks; be used to cook eggs, bacon and pancakes; or make fajitas, for instance.
A pellet grill on display at Stone Works can be used to grill or smoke food, and includes a searing area with an open flame. It also can cook low and slow to smoke ribs or chicken, for instance. An app allows a cook to control temperature remotely, he said.
"Especially now that it's getting more into spring time," Stone Works is seeing more people come in who want to be able to get outside with family and friends, Weber said.
Kitchens, bathrooms and closets, oh my
Home experts say projects to remodel and update kitchens, bathrooms and closets are big right now as well.
If people walk into a home they're considering buying, and it has a beautiful kitchen and bathrooms, they'll be more likely to decide they would enjoy living there, even if there are parts of the house they don't like.
It's more than just a selling point, though; as it can also offer a return on your investment.
Cabinet pulls, door knobs and lighting fixtures have changed over the years as well. According to home design website Houzz, black onyx, polished nickel, matte black and brushed brass were some of the top finishes unveiled at the 2023 Kitchen & Bath Industry Show, where product manufacturers unveiled their latest product collections.
One popular phrase is "soft modern style," when it comes to kitchen and bathroom fixtures, according to Houzz. Sleek hardware and fixtures remain a common choice.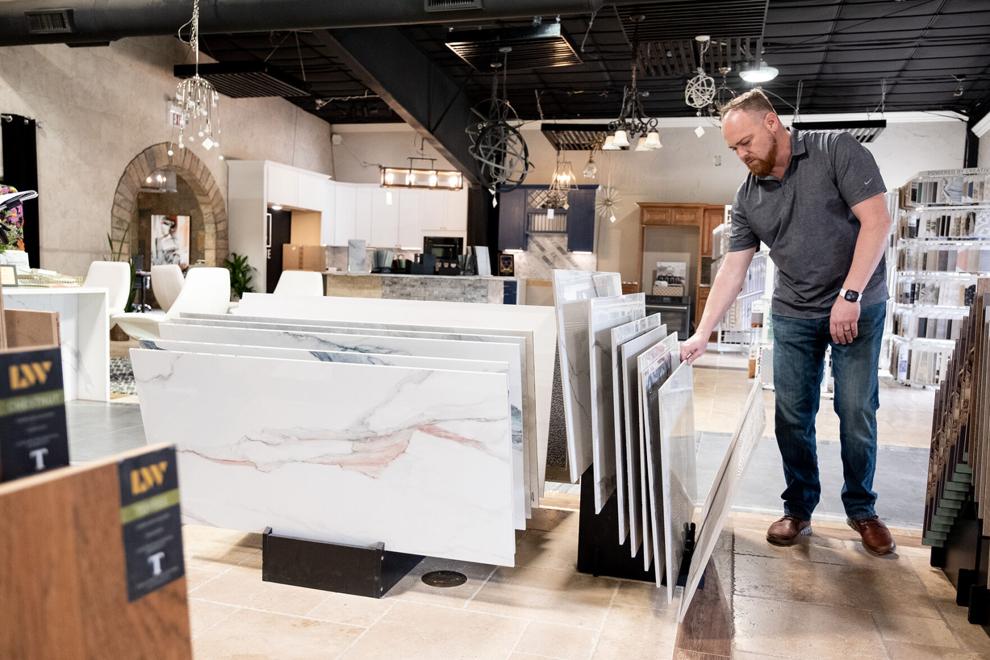 Workstation sinks, which help save space and provide convenience in the kitchen, are also becoming more popular.
In the bathroom, steam showers are being built in many new-build homes and although the installation can be more difficult for a renovation, it is still a feature many homeowners are considering this year, according to Houzz.
Weber, at Stone Works, said another trending product that can be used on fireplaces, in bathrooms or even outside, are large format porcelain tiles — they're 24x48 inches but also come in larger sizes.
"It's very durable material," he said.
"It's an aesthetic advantage," he added, compared with the typical smaller ceramic tiles, and they come in a variety of colors, designs and finishes.
Energy efficiency, trending appliances
Carpenter, with McCoy's, said he's also seen a trend toward projects that focus on energy efficiency — new windows and doors or tankless water heaters, he said: "Things that take what you've got and make it less expensive to operate and improve the comfort."
Weber, at Stone Works, said the business is about to change up one of its showroom displays to use the large format porcelain tiles paired with an Invisacook convection stove.
As he explained it, the convection cooktop is installed under the porcelain, where it's not visible.
"When you put a metal pot on top of it, then it heats it up," Weber said. "It gets warm to the touch, but it doesn't get hot where it's going to burn you."
Stone Works' display also will include a phone charger using similar technology.
RELATED: ETX View Home, Garden & Storm Prep PLUS: Floral beauty abounds in East Texas