First, there were actual caves. Then, there were man caves.
Today, there are also she sheds and even we-sheds.
As men and women strive to create spaces to call their own, man caves and she sheds are continuing to grow in popularity. Sure, everyone needs time with their families and significant others but at the end of the day, individuals also need time to themselves.
"Everybody needs their own space," said Steven Self, who transformed a simple, brick building in his Longview backyard into a man cave.
Whether used for hobbies such as reading or crafting or used simply as a quiet escape, man caves and she sheds allow men and women to spend some time alone in their own personal space.
Self, for example, had always wanted a man cave.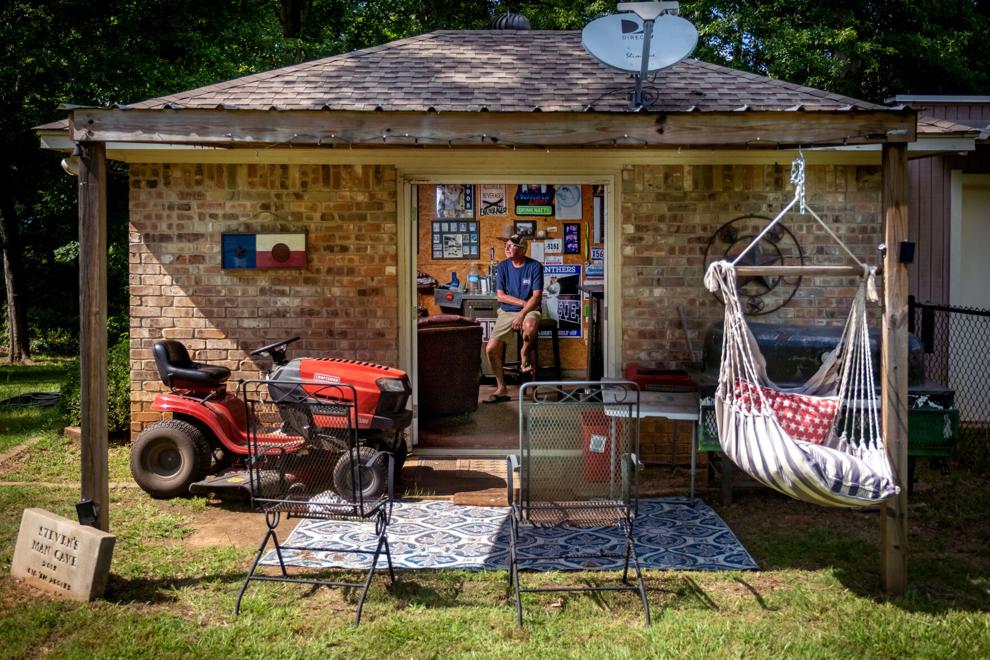 So, he recognized the house he wanted to buy when he walked in the backyard. There, he saw a simple, brick building. The walls were down to the studs and there was no ceiling.
He knew it would be enough to design his ideal man cave. He also knew his wife, Ingrid, would love the yard at the house.
"I basically called Ingrid and said, 'You need to get over here because we're fixin' to buy this house,'" he recalled.
The couple, who celebrated their ninth anniversary this year, moved into the house in Longview's Spring Hill area in December 2014.
Today, that simple, brick building in the backyard has become a place where Self loves to spend his free time.
It's also a place he's filled with things he loves: Texas A&M memorabilia, jerseys from his children's high school sports careers and news clippings about them, his son's baseball bats and the bed frame Self made for his son from baseball bats Self used when he played baseball, a television, a bar and bar stools, a large John Wayne cutout.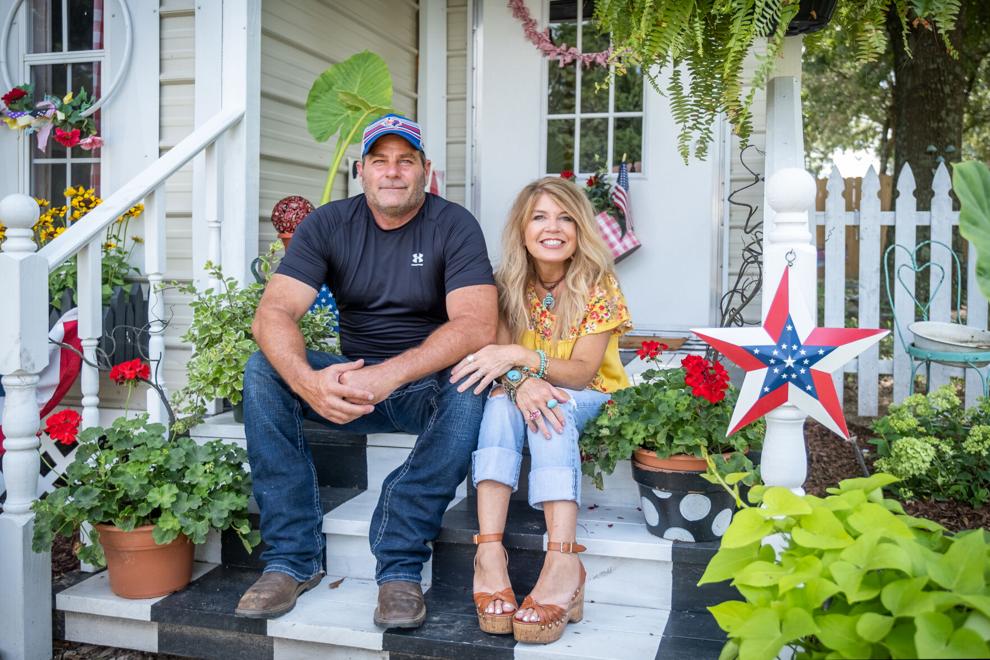 Meanwhile, Susan Boyd's she shed at her home in Mount Enterprise also is about the things she loves.
Boyd, who owns The Crooked Crown Salon and Boutique in Hallsville, loves to decorate. Her she shed serves as storage for her multitude of seasonal decorations and as a canvas for decorating for each holiday.
"If you see all of her décor on different holidays – she decorates for every holiday there is," her husband, Gary, said. "The garage isn't big enough. We just have to have extra storage. She's a decorator."
They bought what was an unfinished metal building in January 2020, after they had a pool installed at their house.
"So then we wanted a bathroom, and we have an alpaca and a llama, and we needed a little barn for them, so we tried to make it multipurpose," Susan Boyd said.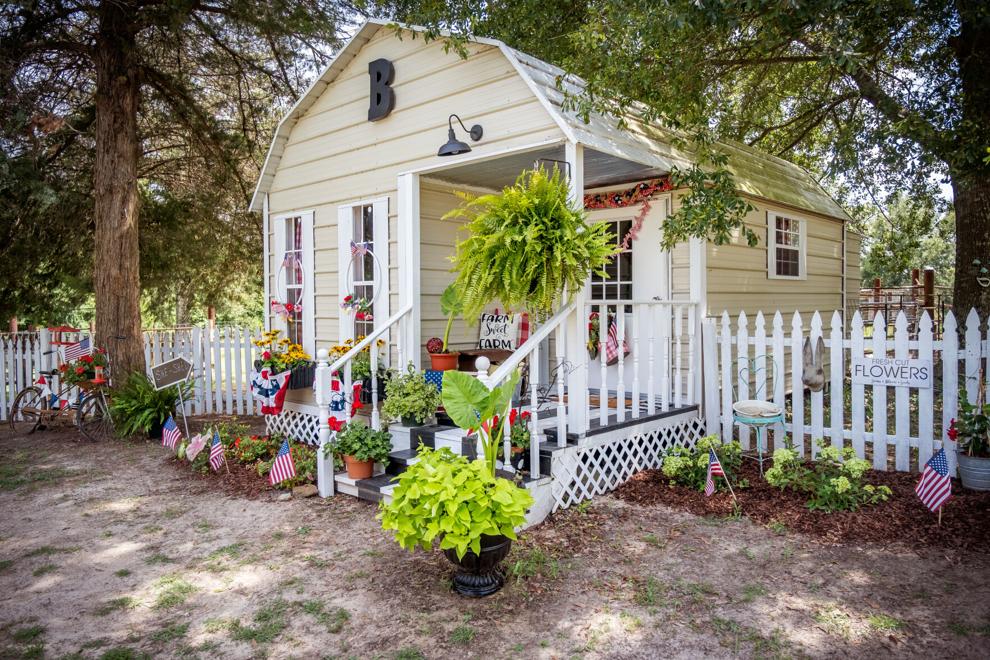 They bought the metal for the barn that is attached to the back of the shed at the same time they bought the building so it would match. A white picket fence surrounds the building, so the alpaca and llama can be close to them when they're outside. Her she shed also has a half-bath.
"We took the plywood floor and he (her husband) cut the grooves in them and painted and stained it to look like a hardwood floor," she said. They also added a tin ceiling.
Boyd envisions projects, and her husband "makes them happen."
"He did all the construction. He did all the hard part," she said. "I hold all the boards down or whatever he tells me to do, and vice versa when we decorate."
At Self's house, the man cave was the first thing he completed in 2015 after they moved into the house.
"It's real simple," he said. "It's just a simple shed."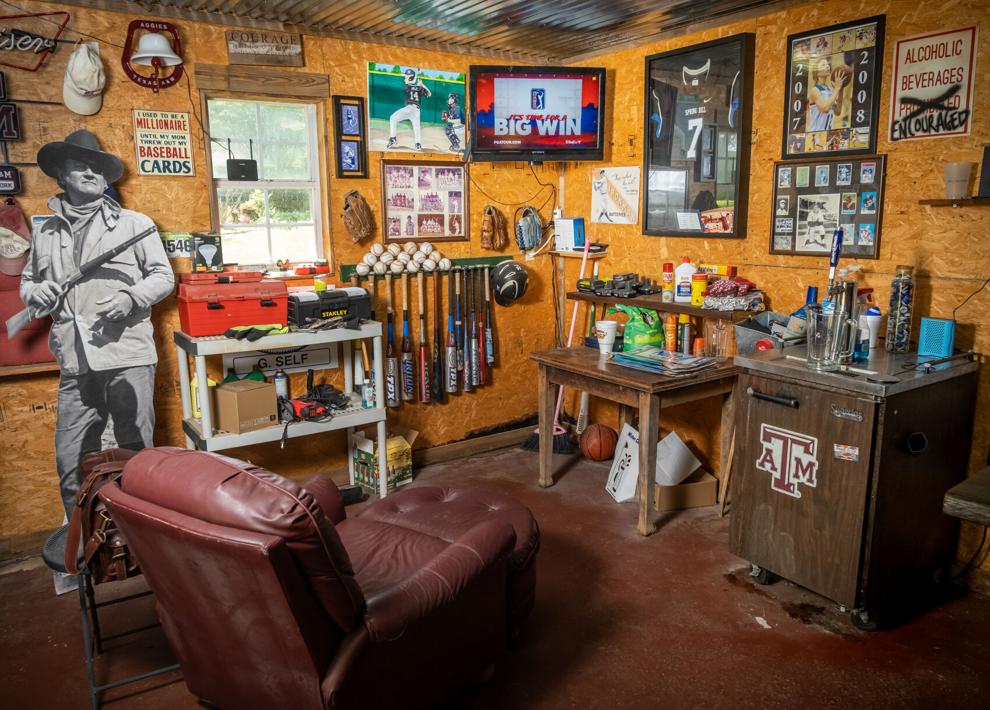 He finished it with the help of family and friends, including John Green of Longview.
"He's pretty handy. I'm not as handy…." Self said. "We insulated the whole thing, and we put OSB on the walls and corrugated metal up there on the ceiling. Then I hung everything in here. Everything I've got in here is all my kids' stuff, their sports, stuff I kind of like."
A bar he won in a silent auction at a fundraiser for Court Appointed Special Advocates sits in one corner of the room, with bar stools inviting friends to sit and visit. His son and a friend built a covered area at the front door, which Self said keeps the heat down inside the building.
Self likes to hang out in his man cave, staying out there until bedtime most nights. It has heat and air conditioning. He's set up to stream '80s rock and country music in the shed as well. He has a small refrigerator inside to keep cold beer on hand.
Friends have come to enjoy the space, too.
"People will call or text, 'what are you doing,' on the weekend. 'Are you in the cave?' I'll say yeah, I'm in the cave, and the next thing I get is, 'I'm going to drop by,'" he said.
His dog, a yellow Labrador/retriever mix named Tyson Charles, usually hangs out with Self each night. If Self isn't watching golf on the television, Tyson Charles will make himself at home in the armchair sitting in front of the TV.
"He's down here anytime I'm down here," Self said.
Boyd's she shed is cream colored, with white shutters and steps leading up to the front door that are painted black and white. She changes up the décor frequently.
"Right now, it's for the Fourth of July, the summer vibe. It's not really the cutest season," she said. "Christmas is ridiculous. It was really, really cute."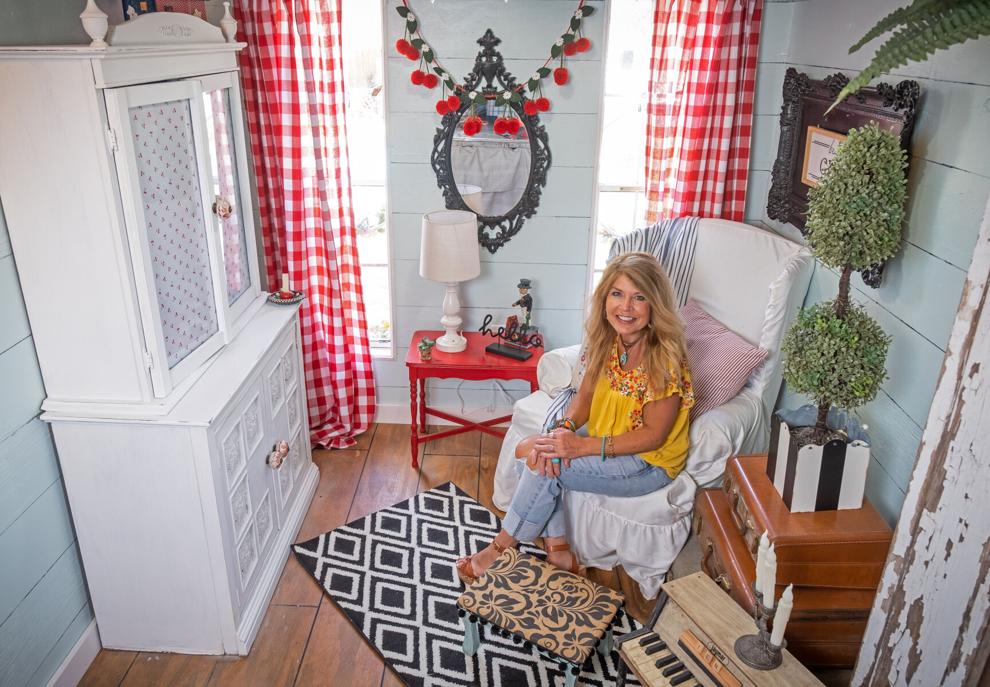 Boyd said they still want to do more to the shed – add more flower beds, for instance, and a flagstone walkway from the pool to the shed. She predicts it will never be finished.
"Everything we do turns into a little extra," she said. "I always think if it's going to be out there, it might as well be cute."
The amount of time she spends there varies, but it's where she keeps all her craft supplies. She goes out to the shed to make T-shirts or wreaths, for instance.
"It's just a happy little place," she said.