An offer to volunteer with the American Cancer Society in Tyler led Kimberly Kennedy to a lifelong career that she loves.
Kennedy is the owner of A Woman's Touch, a Tyler store that provides clothing, headwear, breast prostheses, wigs and other necessities for women with cancer.
"Some women come in here and they never think they will look like themselves (again). We can show them they can," she said.
Kennedy grew up in Arp and went to Stephen F. Austin State University in Nacogdoches, graduating with a business degree.
The summer after Kennedy graduated, her paternal grandmother died of cancer. Later, while selling voicemail systems and fax machines in Tyler, she drove past the American Cancer Society.
That prompted her to call about volunteering. Months later a woman with the society called – but she wanted Kennedy to apply for a job.
Kennedy became the society's regional representative, organizing activities in nine counties around Tyler. She did that for five years then was the society's director in Tyler for another two.
"It all just kind of happened," Kennedy said. "I'm glad I was able to stay in East Texas and work and do something I like doing."
As she told her 19-year-old son, Clay:
During Kennedy's tenure at the cancer society, her maternal grandmother developed breast cancer. She realized the only local resources for women with cancer were wig shops. There wasn't a place for women with cancer to go for wigs, bras, prostheses (artificial breasts) and headwear, such as turbans and scarves, she said.
"This was before the internet. There wasn't any 'click, click' and you ordered what you wanted," Kennedy added, noting that some women still don't buy online.
She left the cancer society and applied for a loan from the federal Small Business Association. While preparing her business plan, Kennedy visited stores in Dallas and other cities catering to women with cancer. She wanted to see what kinds of goods and services they offered.
"I wanted to be able to offer good quality products," Kennedy said.
Jeff Austin III of Austin Bank worked with her to apply for the SBA loan. Kennedy put her shop in Green Acres Shopping Center because it was so well known, was close to medical centers and was easily accessible.
The boutique, A Woman's Touch, opened in June 1999.
"My husband named it. He's creative," Kennedy said, of her husband, Robert.
During two decades of running her store, business and insurance regulations have increased and become more complex. Reaching people by phone to resolve problems can take hours, Kennedy said, adding that she still answers her store's phone.
"When you're in business, you don't need that type of aggravation. There is always a new something you have to do now. That is challenging," she said.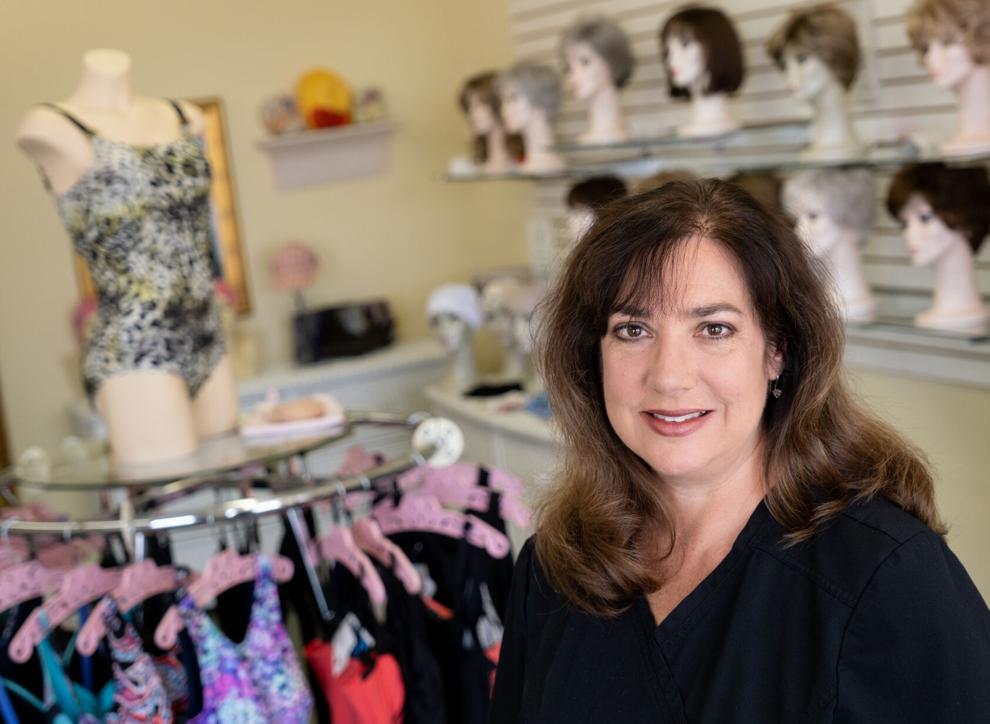 Kennedy sometimes bounces ideas off Kevin Hill, owner of CPS Medical, a medical supply store in Tyler. Her parents, Vernon and Pat Bedair, and her mother-in-law, Iona Lilley, also have supported her.
Today, clothing and headwear for women with cancer is lighter weight and more stylish than it was in 1999. There are camisoles made of bamboo with an inside pocket for the bulb that collects drainage after breast surgeries.
Women wear these and similar clothing until they heal and can be fitted with permanent prostheses, she said. Bras designed for women with mastectomies now come in a range of colors, not just white, black and tan. Synthetic hair used in wigs is more lifelike, and wigs are lighter.
"A lot of my customers … they are just our friends. We like being with people," said Kennedy, referring to herself and longtime employee Karen Davis.
Davis said Kennedy is one of the most honest people she knows.
"She's going to do it the right way," Davis said. "She's not going to take chances with anybody … when it comes to making everything perfect for everybody."
While there are difficult days and heartbreaking stories Kennedy has encountered, she still enjoys coming to work each day.
"Even as long as I've done this, I enjoy being here," she said. "This is like part of our home."