The story of the Women's Health Boutique in Longview is a story of women helping women.
Vicki Dortch Jones and her sister, Seleta Dortch Lovell, inherited their mother's medical supply business, Etex Medical Supplies, after Billie Dortch's death in 1988 from a rare cancer.
Jones' mother lost her hair during cancer treatment. Etex Medical didn't provide wigs.
"There wasn't even a place in Longview that sold wigs," Jones said, and her mother returned home from M.D. Anderson with a wig she didn't like.
Later, after they had sold Etex Medical Supplies and started the Women's Health Boutique in 1992, their mother's experience was at the top of their minds.
"That was one of our goals – that no woman would have to do without the things she needed," Jones said.
Today, Jones is the owner of five Women's Health Boutique locations in Texas and an online store. Other now independent locations are located around the country, from a time when Jones franchised her business concept. One of her daughters, Crystal Jones Tipton, has joined the business as regional manager for the Dallas-area Women's Health Boutiques.
The business has grown, changed and adapted over the years, but Jones said her mission is still helping ensure women don't do without the things they need.
"It amazes me the women who will come into my boutique today, this year, in 2021, who don't know Medicare would pay for a breast prosthesis," Jones said. Perhaps a woman had breast surgery years ago and has been stuffing her bra since that time. "It's just become a way of life for her.
"This is not just here in Longview. This is all across the country," she continued. "Women don't know unless somebody tells them. That's been our mission for the last 33 years of Women's Health Boutique, to make sure women don't have to do without because they didn't know (a product) existed or that insurance would pay for it."
Today the store carries maternity and nursing accessories, such as breast pumps and maternity support belts, wigs, custom breast prosthesis, bras and other products for women who have had breast surgery because of cancer, for instance, and lymphedema/compression products for men, women and children.
Jones came by her entrepreneurial spirit and knack for designing products for her business naturally.
Her mother and father were people of faith who helped many people, she said. It's hard for a person who was raised that way to not share that passion, she said.
"We don't know how God uses what we do to change someone's life, and we don't need to know," Jones said.
Jones has a bachelor's degree in painting and sculpting and a master's in communications/photography. Before working with Etex Medical and starting Women's Health Boutique, Jones worked in public relations at what was then East Texas Baptist College and in marketing at Texas Bank and Trust. She also owned an art gallery, Victoria's Fine Arts and Graphics Studio.
Women's Health Boutique was born out of her efforts to market Etex Medical.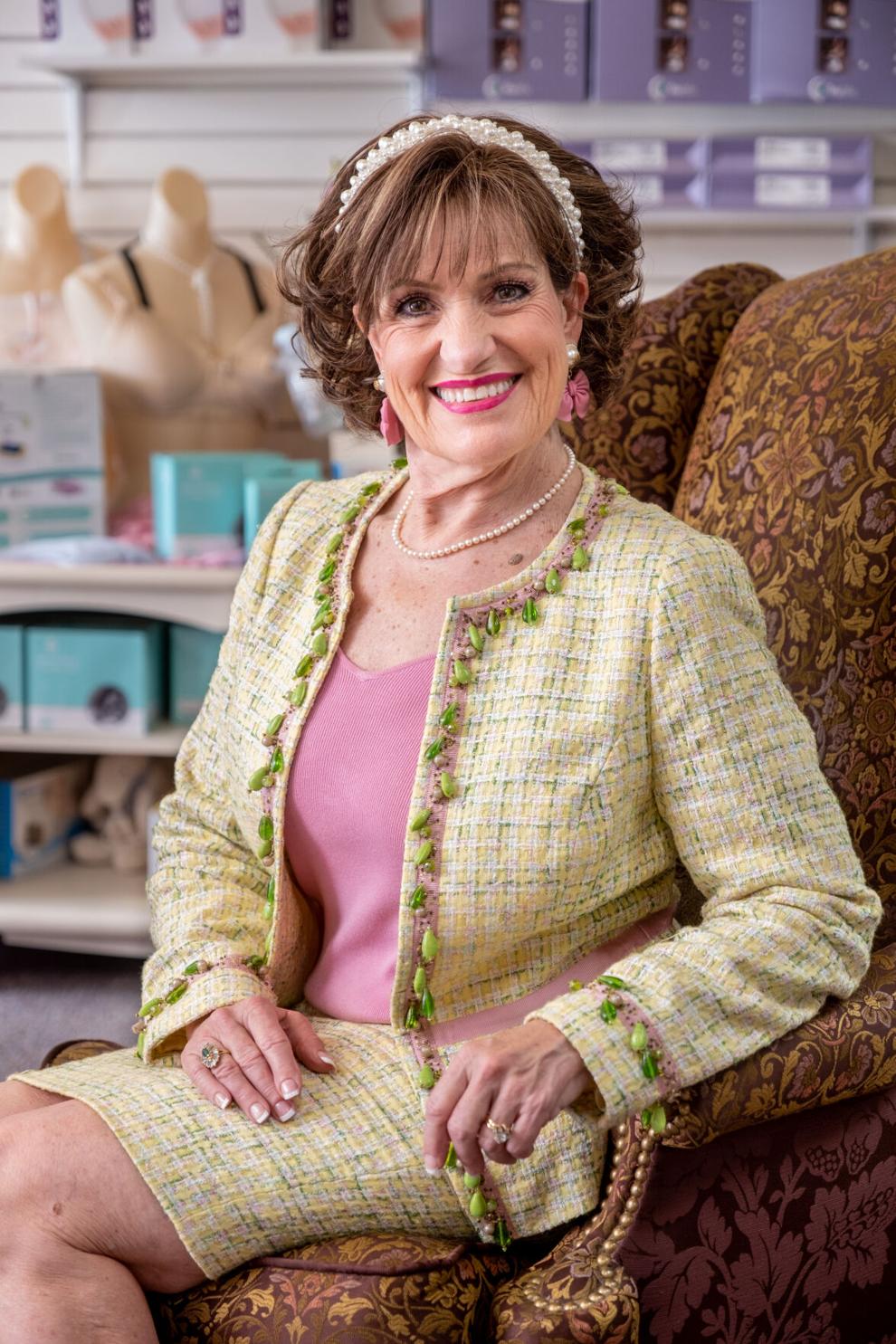 She visited one of her mother's doctors with a product book, with plans to highlight products for vascular needs, such as compression hose. The doctor, however, noticed a tab on prosthetics and asked if Etex Medical carried breast prosthesis.
Her answer was, "We do now." She hadn't even realized the products were in the catalog.
"That's how God used that situation, when I called on (the doctor) because he was my mother's doctor," Jones said. "I guess the whole theme of me in business is it's not just a business to me. It's a ministry. It's an opportunity to minister to people's needs."
People regularly ask her for business advice. She cautions people about what they cut when times get tough for a business – marketing and advertising are a must, she said.
"When times are bad only the best market," Jones said, explaining that keeps a business' name top of mind after the crisis passes.
The arrival of the pandemic in 2020 made for a difficult year for the Women's Health Boutique, just like other businesses. Her business was considered essential, but she still had no customers. She used federal paycheck protection funds to continue paying her employees, who sewed masks that Women's Health Boutique provided free of charge to individuals and organizations that needed them.
She also opened her store in Tyler just before the pandemic hit, and with some advice from her niece, Julie Forester Mangus, launched a program that helped her company end the year in the black.
Mangus suggested the idea of telehealth fittings to help reach customers who were concerned about visiting the store in person. So, Jones mailed information to some 22,000 customers, encouraging them to set up virtual fittings by phone and Zoom.
"Our December sales were as much as a third of the entire year of sales," Jones said.
Because of the program's success, she wants to expand the telehealth fitting program so more women can benefit.
"I think that is going to be an excellent way to continue doing business and branch out," without having to open physical store locations, Jones said.
The idea of telehealth fittings illustrates the importance for entrepreneurs "not to be the cork in their own bottle." Jones could have said virtual fittings wouldn't work in her business, instead of seeing the big picture.
Jones also said business owners need a mentor, and they need to listen to that mentor. She also advises potential business owners to try even when other people don't believe in their dream.
"I say if this is a dream of yours, even if the people closest to you don't agree with it, put 100% of your faith into making it reality," Jones said. "Everybody is going to tell you a reason why you couldn't or shouldn't. If you believe you can do it, then try it. You'll never regret trying it."